Volunteering together is a great way to build relationships with your colleagues. You get to know things about co-workers that would never have come up in a typical workday discussion.
Our Perficient Atlanta team had the opportunity to do just that during a recent volunteer initiative with our local Habitat for Humanity. For years I've heard from people who have been involved what a great organization Habitat is. They're headquartered in Atlanta, so there's a high degree of familiarity with the organization. And somehow in spite of that, this was my first time volunteering with Habitat. But I can say unequivocally that it won't be the last.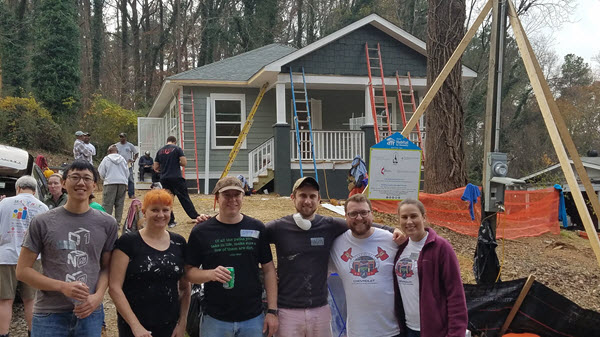 How We Helped
Habitat does home builds in Atlanta in only eight Saturdays. We were part of the fifth Saturday in which we worked on interior painting, doing interior trim work around doors and windows, installing soffit and fascia on the exterior, installing handrails around the porch and deck, hanging shutters, and assisting with a number of other tasks.
One of the most significant things in my experience was the opportunity to work side by side with the future homeowner painting one of the bathrooms. I had an opportunity to talk to her a little bit about what that home will mean to her and her three children and what her kids think about the process and how excited they are. It was very humbling.
My colleague Wendy Derstine, solutions architect, agreed.
"The excitement and gratitude of the future homeowner was very humbling and inspiring," she said.

Wendy was part of the painting crew working alongside others installing doors and trim in the same rooms. "I have never experienced that many people working in such a small amount of space," she shared. "When we broke for lunch, I looked around and just marveled at everyone gathered round smiling, happy, and absolutely enjoying contributing and being productive for such a great cause."
Team Building Takes on New Meaning
At Habitat, almost all of the work is done in teams, so you're painting together or measuring and hanging together or taking turns running drills and saws (with training and supervision that Habitat provides, of course). You just can't get that 9 to 5.
I think anytime we can use the platform and opportunities we've been blessed with to help others, that's a good thing. I think we were all grateful to be able to take some of our time to help this future homeowner and her family that, by her own admission, without Habitat, would probably never have the opportunity to be a homeowner.
Helping others takes the focus off of us and our problems, worries, and stresses and helps put things into perspective. No matter what life throws at me on any given day, I have a safe, warm house to go home to, and the people we're helping are just getting that opportunity.