A partnership announcement at Dreamforce 2017 is sending shocks around the world. Tech giants Salesforce and Google have partnered to integrate their marketing and sales features – creating a robust toolbox to help their customers work smarter, work faster and convert leads into revenue.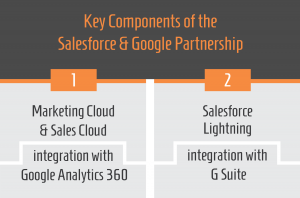 A Closer Look at the Partnership
At some point, you've probably heard the saying, "The whole is greater than the sum of its parts." This partnership is the perfect example. Putting their capabilities together, Salesforce and Google will provide something mutually beneficial – and far more powerful than they had standing alone.
The partnership has two main components:
Salesforce Marketing Cloud and Sales Cloud integration with Google Analytics 360
Salesforce Lightning integration with G Suite
The Biggest Benefits of Integration
1. Smarter Campaigns
With integration between Google Analytics 360 and Salesforce Marketing Cloud, data from audiences and campaigns from 360 will be easily accessed in Marketing Cloud to help drive smarter email campaigns.
Conversely Sales Cloud's data will be available in 360 to drive informed campaigns for specific segments.
2. More Productivity
The second main piece of the partnership is the integration between Salesforce Lightning (with Quip) and Google's Gmail, Meet, Calendar, Spreadsheets, Drive and Docs. As the global leader in Customer Relationship Management (CRM), it's easy to see how Salesforce's integration with this productivity suite will be powerful.
Salesforce records and reports can be synced with a Google Spreadsheet, where data that is updated in either place will sync with the other. Meet by Google Hangout (a video conferencing tool that's the enterprise equivalent of Google Hangout) will be integrated to provide in-app access to Salesforce data, helping businesses connect with customers uninterrupted.
Timeline for Rollout
Already, several of the Lightning integrations are available for customers to leverage. The integration with Google Analytics 360 is anticipated in early 2018.
What Does This Mean for Our Clients?
With these latest tool integrations, our experts here at Sundog can provide an even richer 360-degree view of customer data to our clients, finely-tune strategies and optimize campaigns that minimize cost and maximize effect. It's the next step in helping our clients connect with their customers in even deeper and more meaningful ways.
Any other questions about what this partnership could mean for your company?