This is perhaps the biggest complaint we hear from both sponsors/contract research organizations (CROs) and sites/investigators. Sponsors and CROs dedicate countless resources to researching and addressing payment questions and concerns raised by site personnel, and site personnel often feel frustrated, undervalued, and distrustful of sponsors and CROs that do not pay them as promised.
When a site is not paid on time, is not paid correctly, or is not acknowledged in a timely manner when payment issues are raised, it can trigger a sharp decline in site productivity, which negatively impacts a product's overall time-to-market.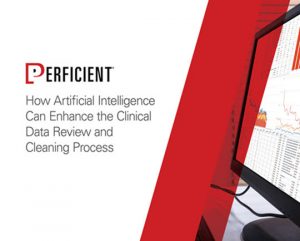 This guide analyzes how artificial intelligence – including machine learning – can be used by pharmaceutical and medical device companies to improve the clinical data review and cleansing process.
This negative outcome can be sidestepped by:
Providing sites with a comprehensive history of payments that have been issued to them
Equipping sites with self-service tools to open claims against payments that seem incorrect
Giving sites the ability to see the status of open claims over time
Automating claim investigations and resolutions, where possible and appropriate
One of the more thoughtful solutions we have seen is described in the blog post, Alleviate Payment Pains For Clinical Sites And Investigators. While it does take time and effort to map out the automated workflows for investigating payment claims, you can see the incredible value in doing so. The issue of payment problems is so prevalent in the industry and so detrimental to site/investigator productivity and relationships, that we see companies making this particular solution one of their top priorities.
To learn more about common issues with clinical sites and how to fix them, check out this guide.