We help manufacturers get the most out of their partner channel. And in this blog series, we're sharing practical ways to improve partner performance. In my first post on lead follow-up, I touched on setting expectations – and following through – with your partners. In part 2 below, I'll drill deeper into that idea.
Let's Start with a Common Scenario
Let's say you are the channel partner manager with a nationally recognized manufacturer. You have a Salesforce Partner Community up and running. Your dealers are managing opportunities and closing sales. So far, so good! You've been working with the VP of Sales on the corporate market share goals for the year, and you want to make sure that your channel sales partners are contributing their respective parts. How will you do it?
A Good Scorecard Can Help
A good partner scorecard gives you real-time visibility into each partner's performance. Typical elements include metrics like:
Year-to-date sales
Opportunity win/loss ratio
Market development fund utilization
And market share, which is one of the most critical elements of your scoring system for partners
Just like you do for your company, you want to measure each partner's slice of their respective markets.
Benefits of Market Share Analysis
We have just introduced a new component to our partnerDRIVEN solution called Market Share Analysis. This functionality is important because it is built on the newly released Salesforce Lightning Bolt technology, and it uses Sales Cloud PRM to give partners the access they need.
Setting common goals with partners – and tracking them together – is an effective way to improve your partners' performance and achieve greater channel results.
With this solution, you work individually with partners to:
Compare their market share year-to-year by industry, product family and region.
Evaluate the prior year's market size, market share and current period quota.
View data by product units or by dollar amounts.
Set new quotas based on prior year share data.
Electronically approve (or reject) proposed quotas.
Get real-time feedback on sales opportunity performance toward their quotas.
See How It Works in Action
Here's a basic overview of how it works:
Sample Company & Roles
From the Channel Sales Manager Perspective:
Danielle is a Sales Cloud user, and she has access to populate market share records for each of her partners. She loads records for each partner with industry data specific to that partner's industry, product family and geography.
Danielle uses the Account filter to select Advanced Transport. Here she can set quotas for each each category.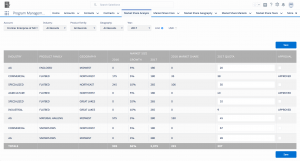 Once she is satisfied with the quotas, Danielle checks the "Approval" box and saves to start the approval process.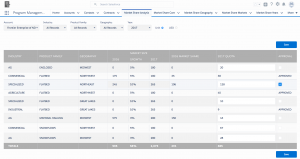 From the Partner/Dealer Perspective:
Next, we'll look at this tool from the partner's perspective.
Shawn Hallowell of Advanced Transport gets an email notification with his new quota to approve. When he logs into the community, he sees the Frontier-branded homepage (one of several design themes provided in the Bolt solution).
On the Market Share section of his homepage, he sees that one of his quotas needs approval.
He agrees with the proposed quota and clicks the green check button to accept that sales goal.
Shawn can monitor his performance against his market share quotas with real-time data on the homepage.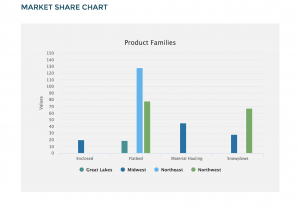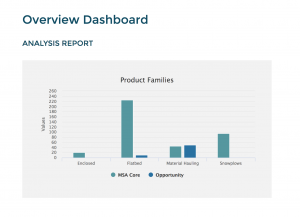 You've probably heard the quote attributed to the renowned management consultant Peter Drucker: "If you can't measure it, you can't manage it." While he didn't actually say that, it's true that setting goals and measuring progress virtually always help us achieve more.
Want to know more about how we've helped other manufacturers get better utilization with their partner networks? Check back for the next post in this series where we'll cover Market Development Funds (MDF). Any additional questions about lead follow-up or opportunity management? We're here to help.