Dirty clinical data is one of the most costly aspects of clinical trials. Not only does the review and cleanup slow down time to market and increase development costs, dirty data can stall or even kill a new drug application (NDA). Consistently receiving dirty data from sites can seriously damage a sponsor's or contract research organization's (CRO's) relationship with a site/investigator, and can lead to a site no longer working with a sponsor or CRO, even though that site might have the ideal patient population, location, equipment, and/or expertise that the sponsor or CRO needs.
This tension can be reduced by leveraging digital technology and the Internet of Things (IoT) in clinical data collection.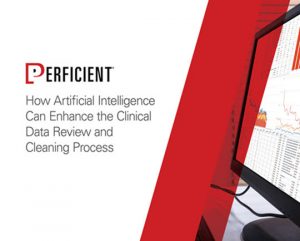 This guide analyzes how artificial intelligence – including machine learning – can be used by pharmaceutical and medical device companies to improve the clinical data review and cleansing process.
We're seeing companies exploring this, dabbling in it, and even diving in head-first, including the scenario described in the blog post, What Is The Internet Of Things (IoT) For Clinical Data Collection?. That solution is one of the most effective ways to streamline trial operations, improve site and subject satisfaction, and save time and money. It requires a very thoughtful, comprehensive strategy to implement, but, from what we've seen, there's no question that it's well worth it.
One of the most beneficial (and attainable) solutions we have seen that makes use of IoT technology is for subject diaries, including reminding subjects to complete their entries, facilitating their entries in interactive and engaging ways, and automatically mining their entries for potential adverse events. Consider the scenario described in the blog post, How To Make Subject Diaries More Valuable In Clinical Research. The third-party contextual analysis software is an especially brilliant addition to the use of digital technology in clinical data collection. It goes above and beyond just ensuring accurate and timely data collection, and aids sites, sponsors, and CROs in the identification of potential adverse events in a way that only machine learning technologies can.
To learn more about common issues with clinical sites and how to fix them, check out this guide.
And, for more ideas about ways to incorporate digital/mobile experiences into clinical trial operations, check out this guide.