Even when sites are able to recruit a large pool of potential subjects, sponsors and contract research organizations (CROs) see far too many subjects who fail to pass the screening visit (screen failures) and subjects who pass the screening visit only to leave the study early (early terminations). Because sites get paid for every subject visit that occurs, regardless of whether the subject passes or completes the study, both of these situations are costly and lead to tension between the sponsor/CRO and the site/investigator.
This strain can be eased by:
Providing site personnel with tools that boost their screening effectiveness, and continually monitoring and improving those tools over time
Shifting the burden of the screening process away from site personnel
Automating the data capture process during the screening visit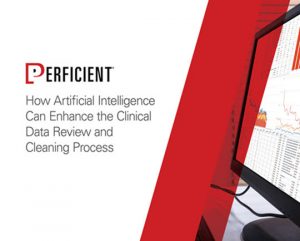 This guide analyzes how artificial intelligence – including machine learning – can be used by pharmaceutical and medical device companies to improve the clinical data review and cleansing process.
We've seen companies tackle this issue effectively in two primary ways, both of which leverage digital technology and CX principles. The first scenario is described in the blog post, How To Make Clinical Subject Screening Easier On Clinical Sites. That is a popular approach to addressing the issue because it is easily attainable and clearly impactful. At its core, that solution reframes the site personnel who perform the screening process as customers, and then uses CX principles to provide them with a convenient and engaging tool for completing the process. It also comes with two rather pleasant side effects: it greatly reduces data entry error that can lead to erroneous screen failures and screen passes, and it provides insight into how to continually improve the overall screening process.
The second approach, which we see industry pioneers adopting, works like the scenario described in the blog post, How To Enable Self-Screening For Subjects At Clinical Sites. While that solution might seem overly futuristic to some, we definitely see it happening, and all signs point to it being the direction the industry is heading. That highly digitized and automated solution significantly reduces the screening burden on site personnel and significantly increases the accuracy of the data collected during the screening process. It also more closely aligns with patient/subject expectations in the "Age of the Customer," resulting in a more pleasant and engaging experience for them.
Granted, the second solution does take more effort to design and implement, but in the case of large-scale, long-term clinical trials, or of a particular site being involved in several of your trials over time, the return on investment (ROI) is pretty clear.
To learn more about common issues with clinical sites and how to fix them, check out this guide.
And, for more ideas about ways to incorporate digital/mobile experiences into clinical trial operations, check out this guide.