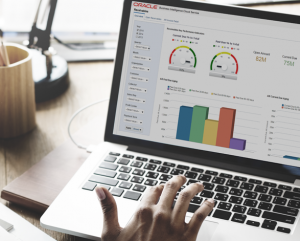 Explore key considerations, integrating the cloud with legacy applications and challenges of current cloud implementations.
"Catching up" is the term that came to mind when I used to check out what's new with Oracle Analytics in previous years. This year, however, I frankly say I was impressed with what I saw at Oracle Open World last week. The rules of the analytics platform game have changed, tremendously. This is after all just like anything else in our time of machines that see and think. Forrester positions Oracle as a major leader in the Cloud Analytics space in their most recent report. It is true, it took Oracle quite some time to make Oracle BI as hip and chic as other software vendors. But one thing is clear now after having talked to the Oracle Analytics Cloud (OAC) makers and seen what is soon to come. If OAC is not going to give you the colors that you dream of for your information, it is going to provide a very sophisticated insight into your business, something that would otherwise have required really intelligent people crunching hard at your numbers. Here is why:
Integrated Enterprise Analytics with Big Data: Oracle announced that they see no separation between traditional analytics and Big Data. Yes the use cases are different, but OAC is going to cater to senior management, the business analyst as well as the data scientist. It doesn't today, but with an expected major upgrade later this year, Spark will be added to OAC for large data set analytics. The nice thing is that Spark data will be consumable just like any other data source for building data flows, transformations and visualizations. With a best in breed Oracle Relational DBaaS, a popular Essbase multi-dimensional engine and now a big data Spark Data Lake, OAC offers a comprehensive set of capabilities that enables an ideal design for the ideal solution. Data Visualization is also going to be kicked up a notch with a story view. It describes your data in words which I imagine is going to be useful when looking at a lot of data and interpreting pictures becomes more challenging.
Machine Learning (ML) and Adaptive Intelligence: The way Oracle approaches ML is not as a standalone capability but as integrated as can be throughout different services, one of which is OAC. This has great benefit potential in areas like improving customer experience, increasing efficiency, and fraud detection. There is going to be a new "Explain" feature in the next OAC upgrade expected this year. "Explain" automatically generates intelligence without manual data discovery and this deprives the same task from the human bias factor. In addition, to the "Explain" machine-provided insight, OAC will add in several built-in ML models that can be dragged and dropped onto the Data Flow canvas. You use one of these models (or a custom-built one on R or Python), for example, to predict if a sales opportunity is going to win, if a customer is going to provide a negative review or if a business unit is not going to be profitable.
Data Flows: It's not just machines that can do more things these days, humans can too! Almost everyone in an organization now has some analytical skills. If you can't self-serve yourself at a gas station, you likely would be stuck with an empty tank, at least here in the US. And so it is trending with being able to collect data and make sense out of it. Here is where OAC Data Flow comes into play. What used to be a purely IT function of collecting and transforming data has now made it into the hands of the business consumers. But what if they do it wrong? Okay, I am not saying everyone in all use cases should be encouraged to self-serve. For example, at the both ends of the spectrum we got Marketing self-serving for their customer experience analysis and segmentation, while Finance following strict governance to produce financial statements. OAC is able to loosen and tighten the governance leash per data set, and therefore cater to the needs of different personas across the organization.
Mobile Intelligence: Most people are doing more of their work on their mobile phones. Just as common personal activities like mobile banking, bill payment and investment tracking have become widely common mobile activities, so are business functions. If you are on the phone with a supplier or a partner, you don't want to open up your laptop and run a dashboard to gain insight about the contact on the other side of the line. Your mobile phone is the best way to give you information and KPIs related to whom you're talking to and make conversations more productive. By mobile analytics I am not referring to simply opening up a report on mobile. This is old news. The cool stuff I am referring to here involves integrated AI. This is the kind where you take a picture of a spreadsheet with your phone and have Oracle's Synopsis App analyze the data. Not just a cute idea, I saw it working.
Pricing: Big change in this area has already occurred. It has been happening gradually over time, but wasn't until this month that I saw a real intention from Oracle to make the subscription experience truly customer centric. A $4 per OCPU per hour is not a bad list price compared to where it was last month. As always, pricing is on the OAC website but it's now more transparent than ever. It's what the people want. I also encourage you to navigate to the new cost estimation page to help determine what licenses you need and how much each costs.
I look forward to the very promising release of the upgraded OAC and will elaborate more on the newer features as they become available.