Today at Microsoft Ignite 2017, Microsoft officially announced what was accidentally released a couple weeks ago. Microsoft Teams will become the primary unified communications (or rather, intelligent communications) platform in Office 365. Skype for Business Online will still be available for an unknown amount of time to allow organizations to make the transition to Microsoft Teams.
Here, I am going to recap the keynote during which Microsoft gave out lots of great information including upcoming features and the controls on how to transition to Microsoft Teams. All images are screenshots taken from a recorded version of the keynote, apologies for the blurriness.
The keynote began with giving several astounding statistics. Since Microsoft Teams went into general availability 6 months ago, more than 125,000 organizations have enabled the service. On the Skype consumer network, more than 3 billion minutes of voice are happening every day. Skype for Business Online usage also doubled in the previous year. Microsoft is now bringing communication alongside more intuitive capabilities and branding this as intelligent communications through Microsoft Teams.
Microsoft Teams is built on cloud-born infrastructure built for Skype. This new infrastructure will allow for better quality of service and faster innovation than the previous platform, which was ported from on-premises versions of Lync and Skype for Business. Moving forward, Skype for Business capabilities will combine with Microsoft Teams capabilities, and Microsoft Teams will be the single client experience for Office 365 communications and collaboration. Simply put, Teams is Microsoft's future of intelligent communications.
Next the keynote moved in the product demos. First, Teams already has several capabilities that Skype for Business does not have, including integration with third-party apps such as SurveyMonkey, Twitter, and YouTube. Teams also has the ability for animated GIFs (a lacking feature from Skype). Teams has full chat history along with the recently released guest/external access (only for other Office 365 customers currently). Inside of Teams and their sub-channels, tabs offer integration with OneDrive as well as other third-party file sharing services like Dropbox. You can edit Office documents directly inside of Teams or open in their desktop or online version. You can also attach conversations to documents and see the chat history to see what others have worked on in the document. Inside the Chat icon, chat history is available and a contacts list. Teams will have the ability to import your existing Skype for Business groups and contacts. Presence in Teams and Skype is also unified.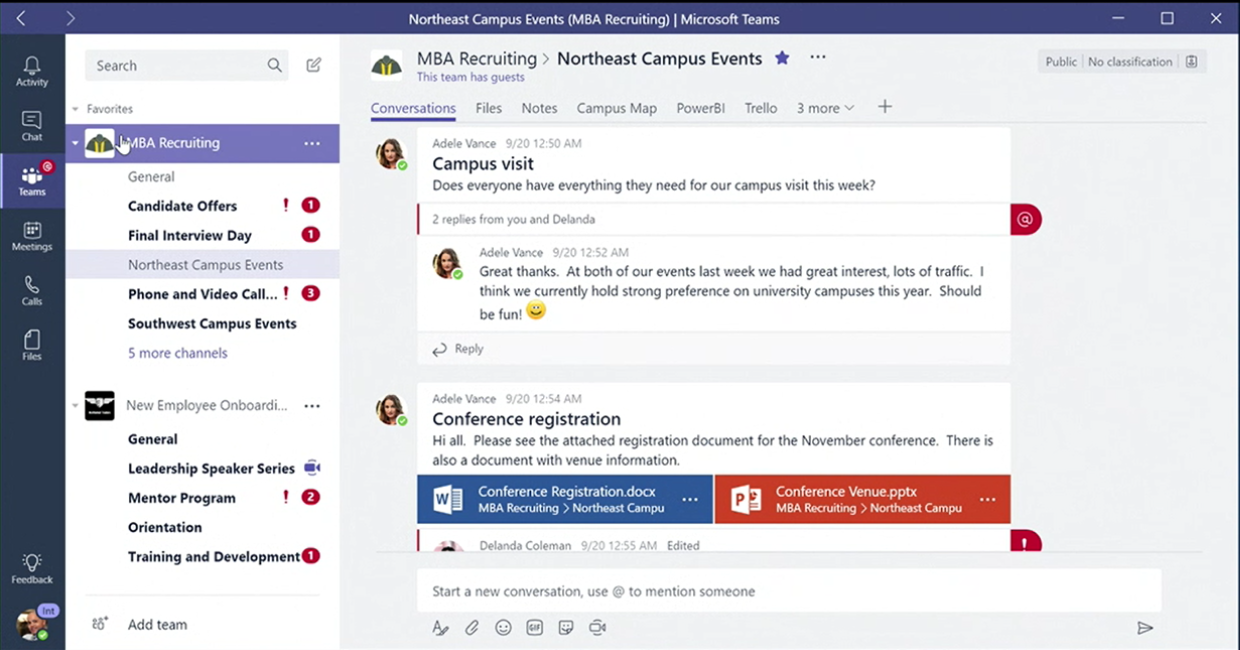 The biggest feature to come is the Call icon. This will bring PSTN calling to the Teams client. You will be able to configure a list of speed dial of contacts for easy single click calling. There will also be an alphabetical list to view all your contacts.  Call history including missed calls will also be available along with duration and easy click dialing to return the call. Voice mail will also be available with playback and a transcript of the voice mail. Full PSTN calling will be available with domestic, international, extension dialing, and 911 capabilities.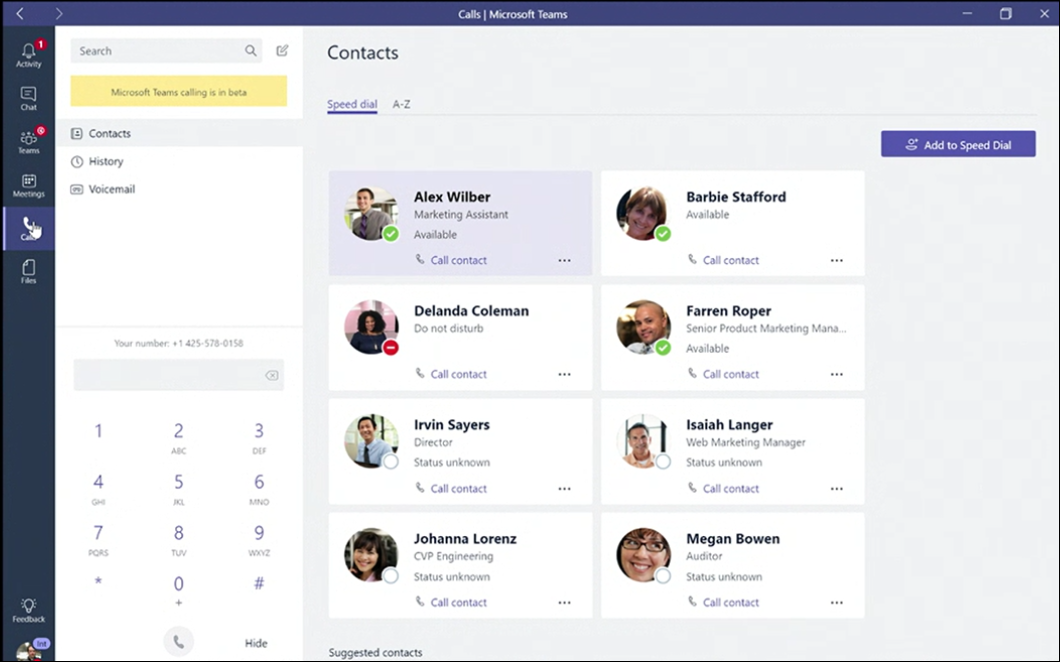 Meetings are already available in the Teams client, and recently dial-in conferencing was released in a public preview. Dial-in conferencing with local numbers are available in 90+ countries and 400+ cities. Scheduling meetings is possible directly from Outlook, the Meetings tab, or directly from a conversation. Once in the meeting, it is easy to switch between content being presented or participant's video.


Microsoft has also made significant investment with developing new apps across all the major mobility platforms. Single-click join of meetings is possible when view your calendar.


Recording is now cloud-based (yay!) and available directly in the channel conversation. The video can be replayed directly from the Teams client along with a searchable transcription of the meeting audio.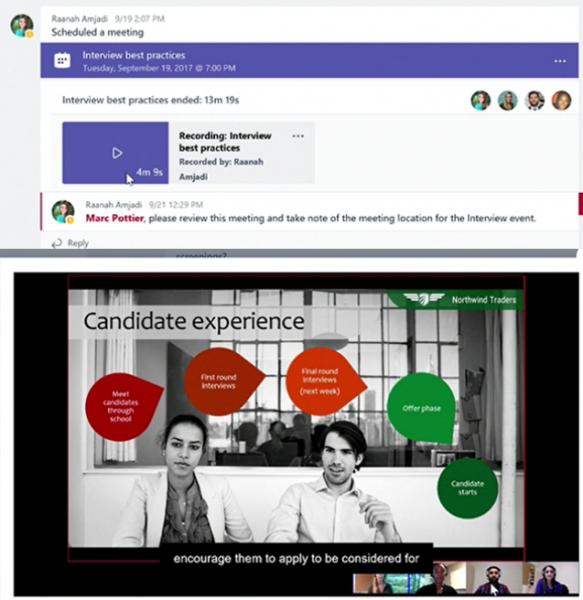 The keynote then moved onto deployment. Microsoft first addressed the on-premises deployment by saying they are still dedicated to the on-premises version of Skype for Business. Skype for Business Server vNext is expected to be released in Q4 of 2018. vNext will bring cloud innovations and security to the on-premises infrastructure such as cloud connected call analytics. There will also be better interoperability with cloud-based Teams users and on-premises Skype for Business users. A new client will be released as well.
Next Microsoft addressed that Teams was built from the ground-up in Office 365 with reliability and security at the forefront. Mobility will have deep integration with mobile application managers with multiple authentication options available. Persistent chat capabilities and retention policies will allow IT administrators to control how chats are archived and how the data is managed. Microsoft has already released Teams audit log capabilities into Office 365 Security and Compliance center.


A new Skype for Business and Teams admin center is also coming. This will be one admin center "to rule them all". This will give access to user based policies for Teams, Skype and other controls that are currently missing from the Skype-only admin panel. All of your existing investments into PSTN calling plans, conferencing bridges, call queues, and auto attendants will transition over to Teams. All devices including audio headsets, phones, video, and room systems will be supported in Teams as well.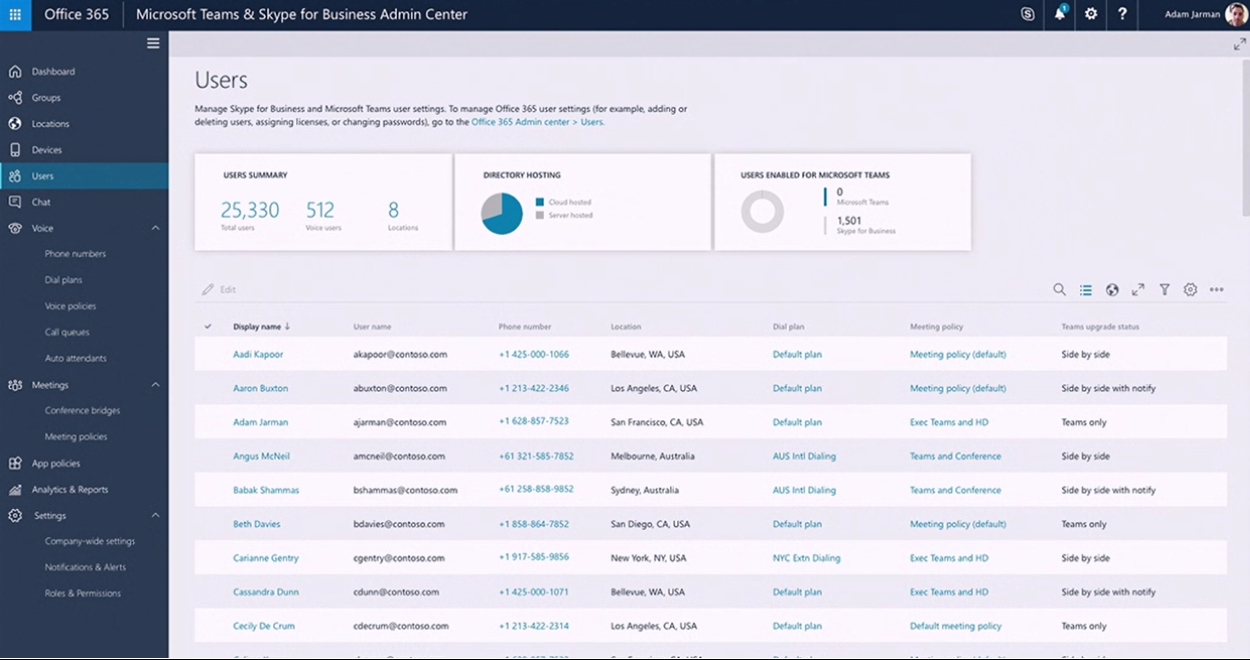 IT administrators will have three options when moving from Skype for Business to Teams. The first is a Side by Side option, where users will have the ability to use both clients and allows a slow introduction to Teams. Next is the Side by Side with Notify, where users will get a notification inside the Skype for Business client that Teams will soon be their new client. The Teams client will auto-download in the background and be ready for when the user is ready to switch. Groups, contacts, and policies will also be migrated over to the Teams client.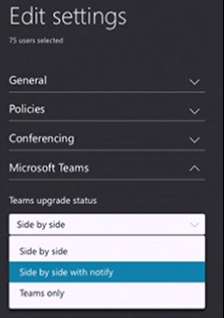 Finally, when ready, the last option is Teams Only, where a final migration of contacts and groups will be performed. Teams will become the primary client for all communications, and Skype for Business client will be in a join-only mode for meetings. Users inside of Teams can still interact with users in Skype for Business who have not been moved over yet.


Overall, I have to applaud Microsoft. It seems they have a solid plan for porting over Skype for Business to Teams and are building several new tools to assist in the process. More details are yet to come but right now it looks like a lot of work has been put into place in order to make this process as seamless as possible. While it may be frustrating to change platforms and clients after recently adopting Skype for Business, but this new service promises more innovation and better reliability for the future of "intelligent" communications.
Did you find this article helpful? Leave a comment below or follow me on Twitter (@JeffWBrown) for more information on Skype for Business and Microsoft Teams.