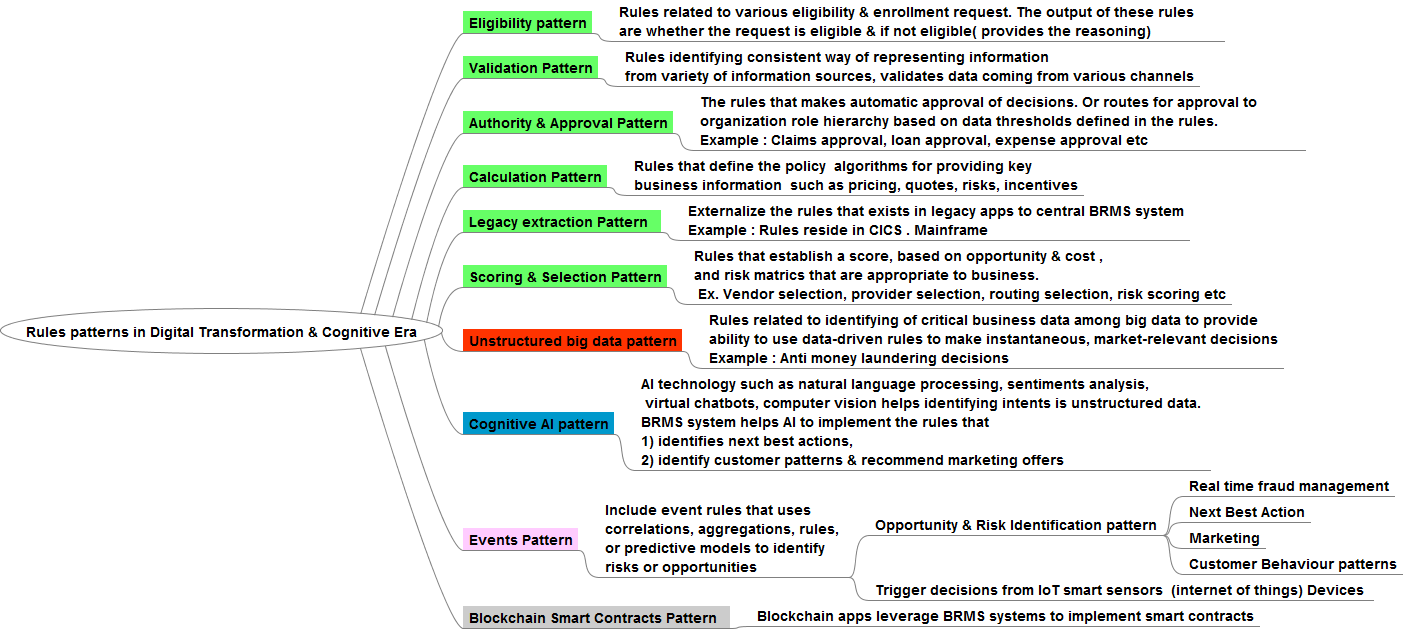 Every organization makes repetitive business decisions. These decisions are made by following organization's business policies. The business policies are the guidelines developed by an organization to govern its actions. The policies define the limits within which decisions must be made. The business rules are the interpretation of these business policies. The business rules enable policies into practice. Every organization needs a Business Rule Management System (BRMS) system to implement the business policies so that the organization can support their core business functions day in and day out. Typically these rules are owned by business subject matter experts (SMEs). In the past , Every organization's key business policies and regulatory compliance data spread across multiple software systems, expressed in highly technical manner and usually not accessible to the key leaders/managers/SMEs responsible for executing business policies. By now, most of the organizations have a BRMS system in place (or in the process of acquiring one) that externalize the rules to empower business SMEs manage policy updates.
Now with digital transformation & cognitive era, business rules are not just applied to the transactional context (structural data), but to an unstructured data as well. With abundance of data accessible to organizations today, business rules are now used to identify patterns & take actions that help transform organization's business. The big data solutions make the huge amount of data available (structured & unstructured) to the organization and provide the ways to process that data in parallel which help the data scientists, run the analytics to find the patterns, that answer critical business questions. It may take days for the data scientists to find the patterns, given the volume of data and that's where Artificial intelligence helps humans extract these patterns using machine learning algorithms. Some organizations are moving toward a highly interconnected network of machines, sensors, controllers (Internet of things) which are communicating information constantly over robust networks to data centers, where this data can be processed and evaluated before initiating automated responses in near-real-time. The business rules help IOT systems constantly monitor these devices to identify threshold conditions to take some actions. The BRMS system is the place to apply the actionable rules to the customer behavior patterns (identified in big data, AI systems, IoT sensors).
Following are the common business rules patterns that can be applied to digital organizations.
Eligibility Pattern: This pattern consists rules that determines if transaction is eligible. Ex. Loan eligibility, account eligibility etc.
Validation Pattern: This pattern consists rules that validates various data attributes. These transactions are accepted from various channels like B2b, webservice calls, messaging invocations etc.
Authority and Approval Pattern: – This pattern consists core business rules that auto approves business transactions or routes to human for approval based on defined rules like claims, underwriting etc.
Calculation Pattern: The rule consists of calculation to determine pricing, incentives calculations on promotions etc.
Legacy Rules Extraction: – This patterns externalize rules embedded in legacy or mainframe applications so that business can maintain & promote the policy updates.
Scoring & Selection Pattern: This pattern includes the rules that establish a score, based on opportunity, cost and risk metrics that are appropriate to business.
Unstructured Big data pattern: – Rules related to identifying the critical business data among big data to provide ability to use data-driven rules to make instantaneous, market-relevant decisions
Cognitive AI pattern: – AI technology such as natural language processing, sentiments analysis, virtual chatbot, and computer vision helps identifying intents in unstructured data. BRMS system helps AI to implement the rules that identifies next best actions, identify customer patterns & recommend marketing offers etc.
Events pattern: – These are the rules that correlates events to business entities and manages the context (state) required to operationalize situation detection patterns. Example: Fleet management, patients devices (IoT) monitoring & actions, marketing, fraud detection etc.
Blockchain Pattern: – Idea here is to use well established BRMS platform to write smart contracts. Adding a rule-engine in the blockchain architecture will result in the decision logic more efficiently represented and processed as rules. Not all the smart contracts are candidate for this rules pattern though.
Learn more about how BRMS (IBM ODM , Pega DM) can help your organization or to schedule a demo please reach out to sales@perficient.com.