Featured snippets can rocket search results for your site to the very top of search, but how do you earn them? Is Google giving us any clues?
In this episode of the popular Here's Why digital marketing video series, Perficient Digital's Eric Enge reveals startling new research that shows how Google telegraphs in advance which search results are most likely to become possible featured snippets.
Don't miss a single episode of Here's Why. Click the subscribe button below to be notified via email each time a new video is published.
Resources
Important Change Since This Video Was Filmed:
In December of 2017, Google made a change to how it handles snippets in their search algorithms. Specifically, they may now snippets that at 3 lines or longer in the search results for your site, regardless of whether you are competing for a featured snippet or not. You can read more about it here.
Therefore, the part of this video where Eric speaks about your search result having a three line or longer snippet is no longer correct. Constant change is part of the Google landscape! The rest of the video is still accurate.
Transcript
Eric: Mark, you look deep in thought. What's on your mind?
Mark: Eric, I'll tell you. I'm excited and I'm frustrated, all at the same time.
Eric: Excited and frustrated? I mean, how did that happen?
Mark: I finally get a page for my most important keyword on page one of Google.
Eric: Congratulations. That must be why you are excited. But, you said you are frustrated at the same time?
Mark: I mean, as good as that is, I know that most of the clicks are still going to my competition, who are above me on that page. And overcoming them is gonna be a lot harder than it ever was to get on page one in the first place.
Eric: That's true but there is a way to bypass them all in one moment.
Mark: Really? How?
Eric: By qualifying for, and getting a featured snippet result.
Mark: Featured snippet? What's that?
Eric: A featured snippet is a type of rich answer in search, where an answer is pulled directly from your site and featured in a box above all the other results and includes a link back to your webpage.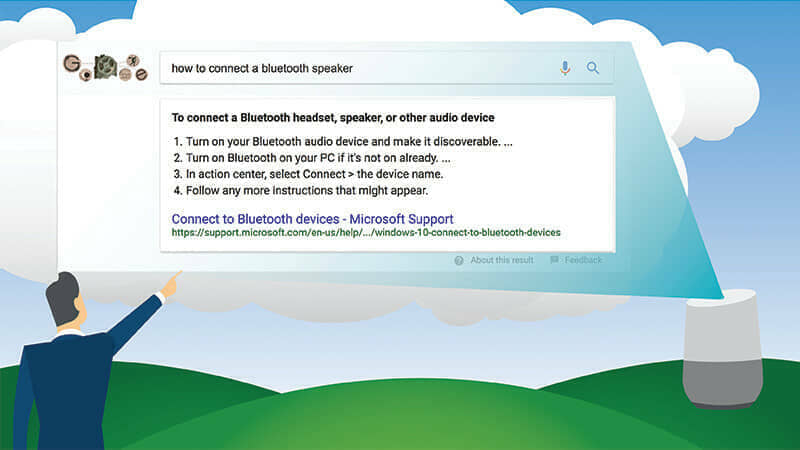 Mark: Wow. That sounds amazing. But how would I get a featured snippet?
Featured Snippets Continue to Grow in Search
Eric: Before I answer that, let me share some interesting insights about featured snippets that I discovered recently.
Mark: Please do.
Eric: One thing that our viewers should be aware of is that rich answers in general have been showing up more and more in search results. Rich answers, which include featured snippets, are any search result where Google includes extra information in the result beyond the traditional page title and brief description.
Now, we've been tracking 1.4 million queries since July of 2015. And you can see this, in this graph, how rich answers have continued to grow in terms of percentage of search queries that show them.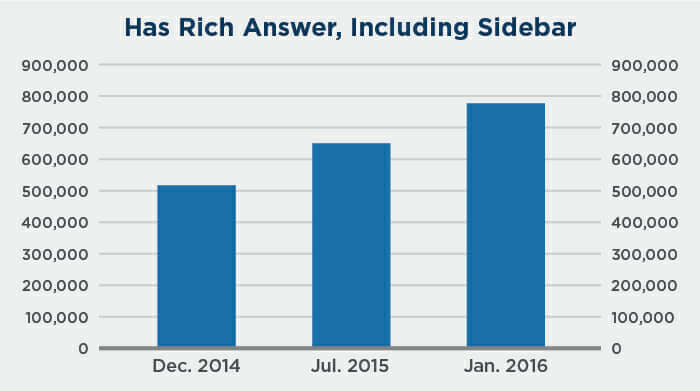 Mark: Wow. It looks like they show up in more than half of our test queries now.
Eric: That's right. So, obviously, they're something that Google knows its users like to see and they're finding more and more ways to incorporate them into their results.
Mark: How many of those rich answers are featured snippets?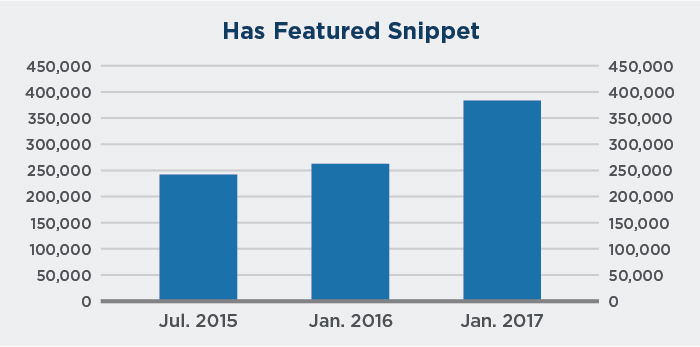 Eric: Well, featured snippets have continued to grow a lot as well. And as you can see here, they took a huge leap since our July 2015 study and are now almost half of all the rich answer results we're seeing. And showed up in nearly 30% of the queries in our test set.
[Tweet "Featured snippets showed in 30% of a test set of 1.4 million queries. Learn more at "]
How Google Telegraphs Possible Featured Snippets
Mark: But those facts aren't even the most important things you discovered in your latest study of rich answers, am I right?
Eric: Right. Here's something we don't think anyone else has spotted until now. Before a search result becomes a featured snippet, it actually first shows up as an expanded regular snippet in the search results. And the text in that regular snippet matches what will appear in the featured snippet if it becomes one.
Mark: You mean Google actually telegraphs a clue as to which snippets are being considered for possible featured snippets?
Eric: That's right.
[Tweet "Google actually telegraphs clues as to which search results could become featured snippets. More at"]
Mark: So let's back up for a moment. I mean, you said that before a result becomes a featured snippet, it first shows up in search as an expanded regular snippet. Now, what does that look like?
Eric: Well, a regular or standard search result snippet has a two-line description, like the one you're looking at on the screen right now.


But an expanded snippet has three or more lines in their description as you see here. That result, from our site, by the way, did earn a featured snippet as you see here.


We found that for our test results that had featured snippets, in almost 90% of the cases, the featured snippet was identical to the regular snippet.
Mark: But what about the other 10%?
Eric: About 40% of those were tables, which Google does not show in regular snippets, in any case. And another 15% were a match but just truncated versions of the featured snippet text. In pretty much all the other remaining cases, it looks like there was some other Google algorithm involved in editing the featured snippet and that's why the match wasn't there.
But the regular snippet matches the featured snippet enough to say that it's a very good clue for which results Google is considering for a possible featured snippet.
Mark: So, more than one expanded snippet can show in the regular results?
Eric: Yes. That's quite common and our hypothesis born up so far by our observations is that all the results that have such expanded snippets are in the running, so to speak, for a featured snippet. One of the things that we've seen in our studies over the past three years is that Google churns their featured snippets quite a bit.
And by that I mean, for many of the queries, they change which site gets shown for the featured snippet and they change it quite often. It looks to us like, for many queries, Google tests which featured snippet users like the best. The point here though is that, when they do churn the featured snippets, they all tend to come from the set of expanded regular snippets that are already showing in the results.
Mark: So, SEOs would do well and be smart to take a close look at any expanded regular snippets in results for their keywords to get a clue as to what Google may be looking for in a featured snippet result?
Eric: That's right. And I've incorporated that insight into my new eight-step guide to creating content that can earn a featured snippet. It's part of the latest rich answers study that we've published on our site.
Don't miss a single episode of Here's Why. Click the subscribe button below to be notified via email each time a new video is published.
See all of our Here's Why Videos | Subscribe to our YouTube Channel