Imagine with me:
A potential clinical subject comes into a site for his screening visit. The nurse performing the screening visit takes out her iPad, brings up the screening app, and follows the interactive prompts to move the potential subject through the various questions and tests.
When the nurse selects or inputs the potential subject's answers, the app dynamically adjusts the questions that are asked and their sequence in a decision-tree format that is relevant to the potential subject.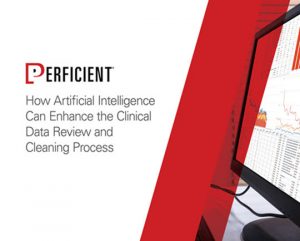 This guide analyzes how artificial intelligence – including machine learning – can be used by pharmaceutical and medical device companies to improve the clinical data review and cleansing process.
When the nurse performs the tests, the data is automatically captured in the app via wireless connection with the testing device – no data entry is required.
When the screening visit is complete, the nurse submits the results, all of which are automatically transmitted to your EDC system and other clinical systems.
Additionally, stats about the nurse's performance and her experience using the app are automatically transmitted (e.g., How long did it take her to move from step to step? How long was the overall visit? In which steps did she seem to struggle?).
As the sponsor or CRO running the study, you see the individual nurse's performance and use data, as well as aggregate data from a single site, multiple sites, and all sites in a study. This analytical dashboard allows you to identify positive and negative trends in the screening process, as well as potential issues that need to be clarified or corrected.
Based on the data you see, you recognize that a particular question in the screening process needs clarification. You kick off a workflow to approve the change. Once approved, you make the change and release it for production use. Over time, you see the use data for that question improve.
The process we just imagined makes use of modern business process management (BPM) technology. Want to see it in action? Send us an email and we'll show you.