What's the difference between a bounce and a conversion on your site? It all comes down to the quantity and quality of content that your customers find.
In a related post, we explored the importance of blending content and commerce to enhance the customer experience. In fact, Gartner estimates that by 2020, 25% of leading online sellers will enable "commerce that comes to you." 1
Being able to deliver a contextually relevant digital commerce experience requires a change in your organizational structure (more on that in an upcoming post) and finding the right technology to support your organization's content and commerce initiative.
Solutions that Enable Content and Commerce
Organizational silos prevent many companies from delivering the best customer experience. Separate teams, processes, and technologies are major hurdles for commerce enterprises trying to respond to real-time business demands. As a result, vendors of web content management and commerce systems have upped their game, offering capabilities that blur the lines between web CMS and commerce.
The content and commerce technology ecosystem is changing because of overlapping features offered by vendors and the acquisition of standalone commerce solutions.2 Forrester states that commerce solutions have evolved to support customer engagement features, such as page templates, navigation tools, site search, and personalization, while some web CMS now offer shopping carts, checkout workflows, and product catalog management.
Commerce platform vendors are at a crossroads, trying to determine if they should build out content management features or simply bolt them on. Or, they are partnering with the big players in web CMS to provide easy integration of content management into the commerce platform, allowing users to do more marketing, scheduling, and promotion of the content as well as personalization.
In our experience, organizations want to empower their marketing teams and business users with the ability to manage content and workload approvals. If these capabilities don't exist within the commerce platform, then they opt for a best-of-breed approach, using platforms like Adobe, CoreMedia, and Sitecore for content management.
Content & Commerce Evolution
With an emphasis on creating more relevant, personalized, and engaging content, you need to consider platforms that provide advance capabilities for content creation and management. Additionally, product information management, site search, and content management features that have been traditionally bundled with commerce platforms have evolved as more specialized, standalone solutions. Figure 1 illustrates the shift from single content and commerce platforms since 2000 to the best-of-breed solutions you find today.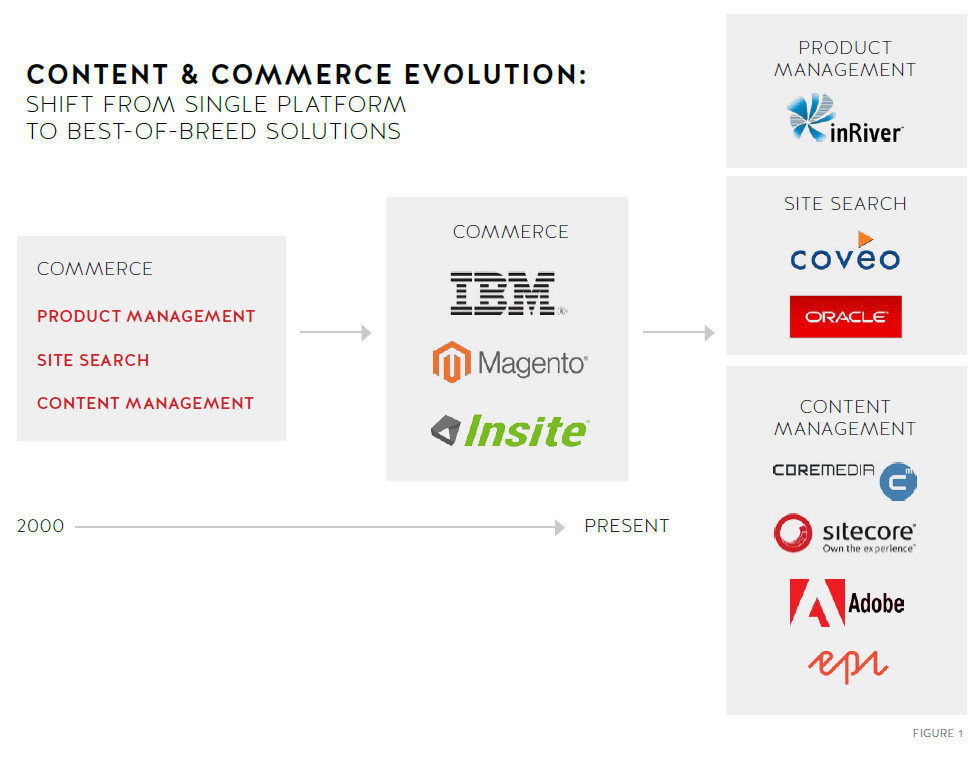 Because every organization has unique needs and challenges, most content and commerce solutions are built specifically to address those requirements.
In the next post, we'll explore why breaking down organizational silos and establishing governance is crucial for content and commerce success.

Sources:
1 Magic Quadrant for Digital Commerce, Gartner, 2017
2 "Content and Commerce Technology: Traditional Marriage Dynamics Don't Apply Anymore," Forrester