The Perficient Microsoft team is at Microsoft Inspire this week in Washington, D.C. Formerly known as the Worldwide Partner Conference, Microsoft Inspire brings together Microsoft executives, employees, and industry experts with the company's vast network of partner organizations. We love taking part in the keynotes and networking opportunities that Inspire offers, but one of our favorite activities each year is the U.S. One Commercial Partner (OCP) community project.
This year, Perficient joined Microsoft at the Fishing School in Washington, D.C. to install a newly outfitted computer lab, a gaming station complete with virtual reality headsets, and eight new Surface Pros.


The Fishing School's motto is, "If you give a man a fish, you will feed him for a day. Teach him how to fish, and he will feed himself for a lifetime."  The new technology will help students achieve this goal.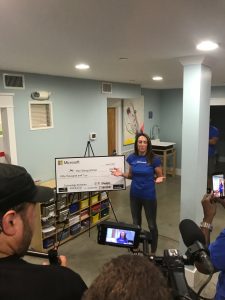 Thanks to fundraising efforts from Microsoft employees and partners, a total of almost $90,000 was donated to The Fishing School. We're proud to be a part of this program, and we're excited to see what else Inspire has in store this week!