Business process management has led a transformation in the insurance industry for decades. With the emergence of cognitive technologies like IBM Watson, insurance agencies can further optimize complex, data-driven processes to gain a competitive advantage.
Last week, we explored the transformation of insurance through the emergence of IBM Watson and business process management solutions (BPM). Led by Graham Wallis and Christine Livingston, leaders of Perficient's respective BPM and Watson practices, attendees learned:
What exactly Watson is and why it's important to the market
The characteristics of cognitive solutions
How cognitive solutions tie-in with BPM
How insurance agencies are using a combination of cognitive and BPM to further streamline their operations
And more!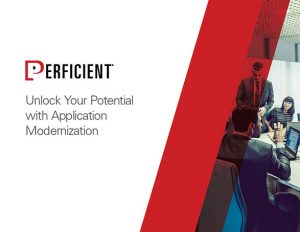 Application modernization is a growing area of focus for enterprises. If you're considering this path to cloud adoption, this guide explores considerations for the best approach – cloud native or legacy migration – and more.
If you're interested in learning more, check out our Storify stream below and watch the webinar for yourself, here.
Finally, if your organization would like to experience Watson, email us at sales@perficient.com for a conversation with a sales specialist today.