I had a pleasant surprise during one of my recent team meetings at Perficient. I'm a Lead Technical Consultant based out of our Indianapolis office. Outside of work, I'm a classically trained singer, and I spend much of my free time pursuing my passion.
Most recently, I have been fortunate to be the "Official Voice of the National Anthem" for the Indy Fuel, an East Coast Hockey League club. I sang the national anthem at about 15 of the 36 or so games of the 2015-16 season. I also sang at an Indiana Pacers basketball game. And, I've sung at two NCAA championship events this past year: Women's Swimming & Diving and Women's Polo.
My teammates know that singing is a huge part of my life. We were on a conference call, and General Manager Jason Hudnall gave a shout out to my music. It's something I haven't experienced before at a company. My personal interests have almost been more of a nuisance, and I've even had a former manager at a previous job question what I did with my personal time.

Still There for Me with My New Initiative
Jason, and all of my colleagues at Perficient, have been extremely supportive of my off-the-clock interests. My colleagues even took their support a step further the other week. I launched a new initiative, The Back Home in INdiana Project, and hosted a kickoff party at a local restaurant to gather together everyone involved so far (group shot pictured below). Jason and some of my other teammates – Vaibhav Mathur, Director; Bob Poisal, Account Developer (pictured in the center of the group shot); and Casey Call, Account Developer – attended the event.
Leading up to the event, I was feeling very apprehensive, thinking, "Who am I to try something like this?" Because at the end of the day, while this will include my music, it's much bigger than that.

My Goals for the Project
The Back Home in INdiana Project came from an idea to record a video of me singing "Back Home Again in Indiana." After talking it over with my marketing partner, Tony Fannin of BE Branded, we thought that it would be more interesting to tie a story or stories to the song like we did with "Be Still My Soul" from my COMFORT album.
The focus of the project is to spotlight the growing appeal of the best Indiana has to offer – a thriving business community, homegrown talent in many fields from performing arts to tech, and a wonderful place for a family to call home. Indiana residents who move away from the state in search of greener pastures often return back home. We want to know why that is.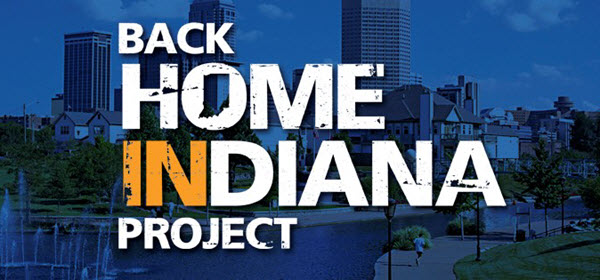 It's about helping to define why Hoosiers should be proud to call Indiana home. While we've identified what we think are some basic Hoosier values, I'm excited to see what kind of stories we come across and maybe get a clearer picture of what makes Hoosiers Hoosiers.
The kickoff event went pretty well, and I've gotten positive reactions from people when I describe the project. But, I still feel a bit apprehensive about the undertaking. Tony has been really good about encouraging me and telling me why I (we) have the right to do this – because, as far as I know, no one else has.
Life and Work Values Come Full Circle
It's wonderful to have support from both the community and my team at work. I've found that the values I highlight in The Back Home in INdiana Project – family centric, entrepreneurism, and strong community – definitely seem reflected in Perficient's core values.
---
Learn more about what it's like to work at Perficient at our Careers page.
Follow our Life at Perficient blog on Twitter via @PerficientLife.
Connect with us on LinkedIn here.