When you hear Wisconsin, you probably think of our sports teams (Go Pack Go!), cheeses, and miles upon miles of farmland. But nestled in the southeastern corner of the state is Milwaukee, known for Summerfest, Harley Davidson, MillerCoors, and fried cheese curds (if you haven't tried one, you're missing out on a true Wisconsin delicacy!).
Milwaukee is also home to about 70 Perficient and Perficient Digital employees, representing a broad range of business units, including Digital Commerce (Magento, Insite, inRiver, and more), Digital Marketing (SEO, PPC, CRO, Analytics and Digital Strategy), Sitecore, Business Development, and Account Management.
Where We Are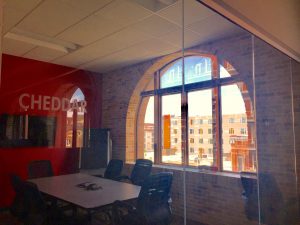 Our office is smack-dab in the center of Milwaukee's Historic Third Ward, and our quaint office building features exposed brick walls and long, original windows that provide plenty of natural light and a view of Lake Michigan. Ross Monaghan, Agency Managing Director of Digital Marketing, enjoys the locations because, "It allows our team to enjoy a great variety of restaurants, coffee shops or a game of bocce ball at the park just south of the office".
Also, our conference rooms are named after different kinds of beers and cheese, including Leinenkugel and Cheddar, which seems mighty appropriate for where we're at!
Our Culture
Apart from the location, the Milwaukee office offers a unique cultural environment since we're attached to Perficient's Nagpur office.  This provides our employees with a special work experience because we not only observe American holidays such as St. Patrick's Day and Halloween, but we also celebrate Indian holidays like Diwali. Rick Bauer, Sitecore MVP and Digital Strategist, said he really enjoys the "Indian cooking and cross-cultural education"
we provide our employees during our in-office events.  Our culture committee is constantly hard at work planning exciting activities to bring our split-floor teams together to interact with one another and have some fun.
During the work days, we all need a break from time to time. So, if you can't find someone hard at work at their desk, they're probably adding a few pieces to one of our giant puzzles, playing a quick game of darts, partaking in a push-up competition, or taking a stroll for an afternoon coffee.  When the clock strikes quitting time and our employees pack up for the day, they stay fairly active through a variety of sports and hobbies, including running, biking, weight lifting, yoga, cricket, golf, and in true Milwaukeean spirit, we even have a few beer aficionados to round out the pack.
Why We Work Here
The Milwaukee office's culture is one-of-a-kind compared to the other Perficient and Perficient Digital locations, and what makes it that way is more than the work-hard, play-hard work ethic we've established.  Drew Gritzmacher, Partner Specialist, sums up the best part about working out of the Milwaukee office: "Without a doubt the people.  Being able to interact with people from different practices allows everyone to keep up on trends and the overall direction of our business unit. Thirsty Thursdays are fun, too".  Not to be cheesy (which seems to be a common theme here), but this office would not have the diverse and exceptional culture it currently does without all of our fantastic Perficient and Perficient Digital colleagues.