Research reveals new insights into how featured snippets work
This new study documents a never before made connection between featured snippets and regular snippets in the search results, as well as a new way to recognize when your site is competing for a featured snippet. I'm also going to detail an advanced process for obtaining featured snippets. Finally, I'm also publishing our latest data on the penetration of knowledge boxes and featured snippets in the search results.
The importance of featured snippets can't be overstated. In a world where
voice queries and voice responses become more common
, what Pete Meyers coined as "Position Zero" will become "Position Only." In other words, you will get only ONE result (initially, at least). Knowing how to become that result will be critical to thriving in a voice-centric world.
This is the fourth of our comprehensive studies on this topic. You can see the others here:
The Growth of Rich Answers
Before we start, you can see a detailed definition of rich answers, knowledge boxes and featured snippets here. Here is a short-form definition for each:
Featured Snippets are Rich Answer (or Direct Answer) results that include a link to the source of the answer.
Knowledge Boxes are Rich Answer results that do not cite sources (e.g. questions like "how many quarts in a gallon").
Knowledge Panels are Rich Answer results that appear in a sidebar to the right of the regular search results.
Extended Snippets are Rich Answer results where Google adds rich information snippets to a regular search result.
Rich Answers are any search result that includes at least one of the above features.
Now, for the data, let's start by taking a look at the continuing growth of Rich Answers overall. (All results shown are based on 1.4M queries.)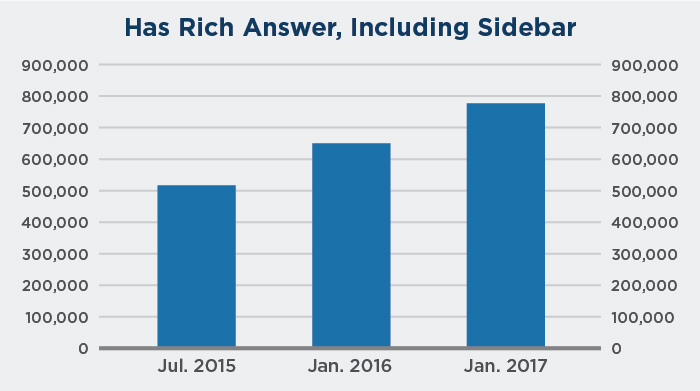 Google's use of these types of features has now passed the 50 percent mark in our query set. That's a clear indicator of how important these are to Google. Users think that it's very important, too. In our survey of approximately 1000 users, over 60 percent said they wanted "More results that answer my question directly without my having to visit a website or another app". Google has obviously gotten a very good response to these programs, and they are expanding them in response.
Next up, let's look at the growth of the Knowledge Box feature in Google: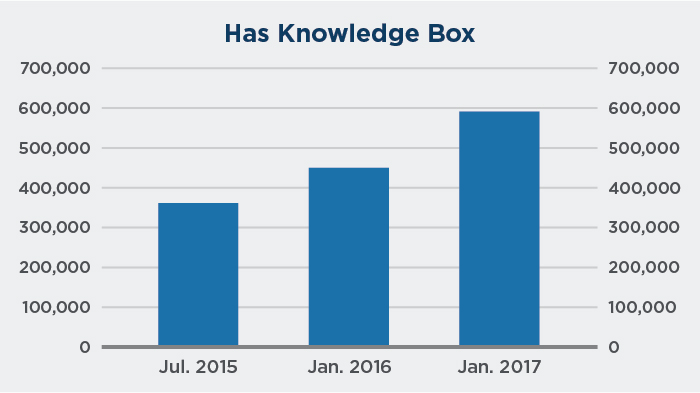 The growth in this feature mirrors the rate of growth of Rich Answers overall. Next up, let's look at the growth in featured snippets: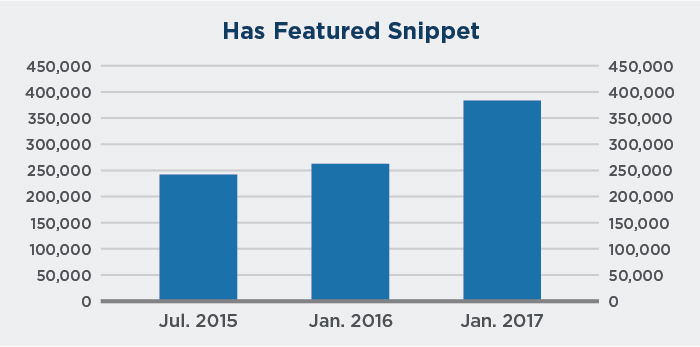 This also grew rapidly between this study and the prior one.
[Tweet "Nearly 30% of 1.4 million Google queries tested now show Featured Snippets. See full study at"]
Also of interest is the dramatic growth in the inclusion of images within rich answers. Here you can see the data on that growth: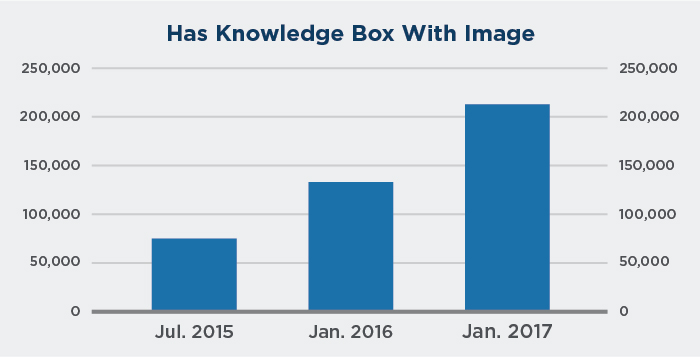 More than a third of these types of results now include an image!
Featured Snippets are Derived from Regular Snippets
Watch a summary of these findings in a 5-minute video
We decided to explore the connection between the regular snippets you get in the search results and featured snippets, and what we found surprised us. But first, in case you are wondering what a "regular snippet" is, it's just the description used in a normal search result as shown here in the red rectangle:



In a manual review of 601 featured snippet results, we found that for 524 (89.9 percent) of those, the featured snippet was identical to the regular snippet associated with the search result:



[Tweet "Nearly 90% of featured snippets in a test group had a matching regular snippet in the SERPs. More at"]
That left us with 61 featured snippets where the regular snippet was not a 100 percent match. I then dug into those in detail, to see if there were some unique aspects to those 61: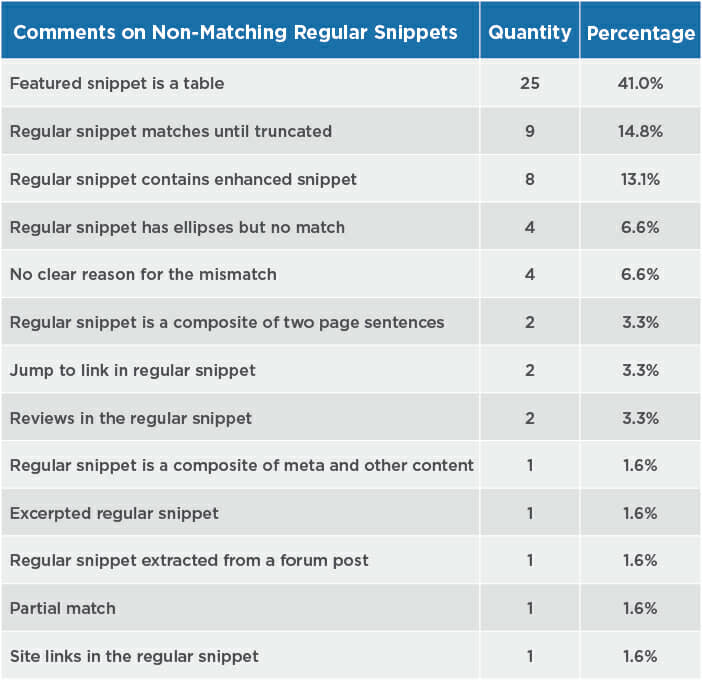 The most common reason for the regular snippet to be a non-match was when the featured snippet was a table (25 times). In nearly every other case it appears that some other "special treatment" of the regular snippet was in play. It may be those special treatments override the normal regular snippet display, even when the search result is showing a featured snippet for the page.
There were only four results in our data that I marked as "No clear reason for the mismatch." My bet is some other reason that I don't recognize is causing the regular snippet to be altered from the standard regular snippet.
Regular Snippet Conclusions
So what does this mean? Here is my theory as to how this works:
The featured snippet algorithm is a simple derivative of the regular snippet algo.
The only exception to this is when the featured snippet is shown as a table.
The featured snippet and the displayed regular snippet will be a 100 percent match, unless some other algorithm overrides the normal regular snippet display algorithm.
In principle then, to get a featured snippet, you're actually optimizing your regular snippet.
Regular Snippet Length Tells Us When We're a Candidate for a Featured Snippet
UPDATE: More recently, In Fall of 2017 Google made changes to how they process regular snippets so that regular snippets may show more than three lines as well. Three lines of text in a regular snippet used to be an indicator that you were a prospect to show a featured snippet. That is no longer true. For that reason, the content that initially appeared in this section has been removed.
Bonus Observation: Google's Testing Featured Snippets at Crazy Levels
In the last version of this study prior to this one, we presented data that showed that Google performs a massive amount of testing with featured snippets. Today, I have some new data to show about that.
The following chart shows the number of featured snippets over time for 8 different web sites. Notice how certain sites see rapid drops or spikes in featured snippets, and ongoing changes over time as a result. This shows some of how Google goes about testing featured snippets.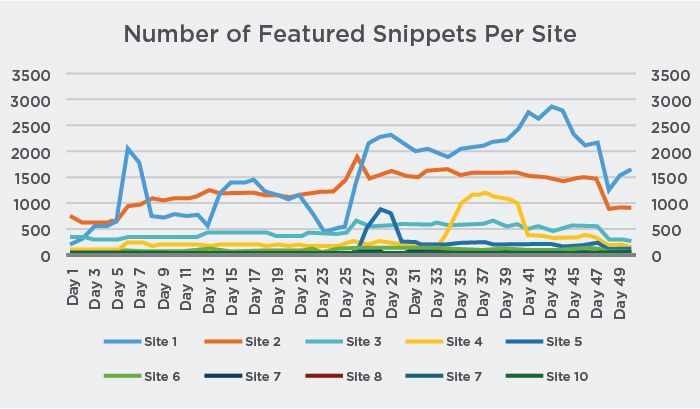 This new visualization makes it apparent that they'll potentially test some sites for a large number of new featured snippets all at once. This looks remarkably like active A/B testing.
Thanks to Jordan Silton of Apartments.com for sharing this chart with us.
How to Generate Featured Snippets for Your Site
[Tweet "Guide to generating featured snippets for your site includes info from latest research. See it at"]
Step One: Make sure that you're chasing something worthwhile
You can use keyword research tools to try to find common informational queries that users may be using that are related to your product or service. That's a great start.
I'd take it a bit further though, and tap into several other sources:
Customer Service
Product Marketing
Sales
Ask each of these groups what questions they hear frequently from customers. Then pick the highest value variants of those and make them candidate search queries for which you want to try and earn a featured snippet.
Once you know the questions you want to answer, figure out the best way to thoroughly answer them.
Step Two: Do research on related questions
There are a lot of ways to do this, but two of my favorites are:
Mine search suggestions. Enter your main query (e.g. "How to get a featured snippet" may be an example of such a query) for which you want to obtain a featured snippet, and see what related search terms come up. This will give you data on what Google sees as strongly related to that query.
Mine People Also Ask. Enter in your main query and see what shows up in Google's People Also Ask boxes. This is more data on what Google sees as closely related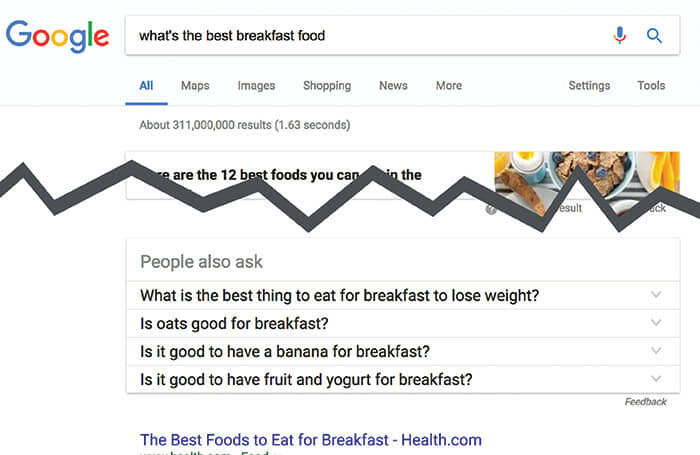 The goal of this effort is not focused on the specific chunk of content that you're trying to get to show as the featured snippet. It's about adding value to the rest of the page. It's my belief that some part of the featured snippet algorithm favors showing pages that have more depth of information than just the direct response to the question.
Step Three: Check queries to see where you already have a regular snippet of three or more lines
Remember, these are queries where you are already in the running. For these pages, examine ways to tweak and improve your content. You don't need to overhaul these pages. They're already close to success.
Experiment with ways to make them a bit better, as that may be all you need. Perhaps you can answer the specific question more directly or more thoroughly. Or, perhaps you need to add more information on related topics on the page. Be prepared to experiment and see what works.
Step Four: For queries where you currently do not have three or more line regular snippets, create new content or significantly modify existing content.
Note, where applicable, link to closely related pages on your site, as I believe that this also helps make the page a lot more valuable.
Step Five: Research most common formats for FS in your market
You can look at related queries to see which of those have featured snippets, and what format those are in. Based on that info, should your info be in a bulleted list? A table? A paragraph? Once you have this info, use that to put together your answers in that format.
Step Six: Complete your content and upload it
Once you've done that, the waiting game starts. Note: If it's a new page, you can speed up its discovery time by using Google's Submit URL tool.
Step Seven: Test, Measure, Iterate
A good way to think about this process is as follows:


Step Eight: Once you have a working model, scale it
This is the fun part, especially if you have a lot of pages that follow a similar structure.
OK, So, Does It Work?
Great question, and the answer is yes. The above eight-step procedure does work. But, for simplicity, let me break it down even more. You need to create easy to understand, great content that answers common user questions directly. Publish that in high value content. See if it works. If it doesn't, tweak it to make it better still. Rinse and repeat, until you get the desired results.
Here are three case studies from work we have done with clients: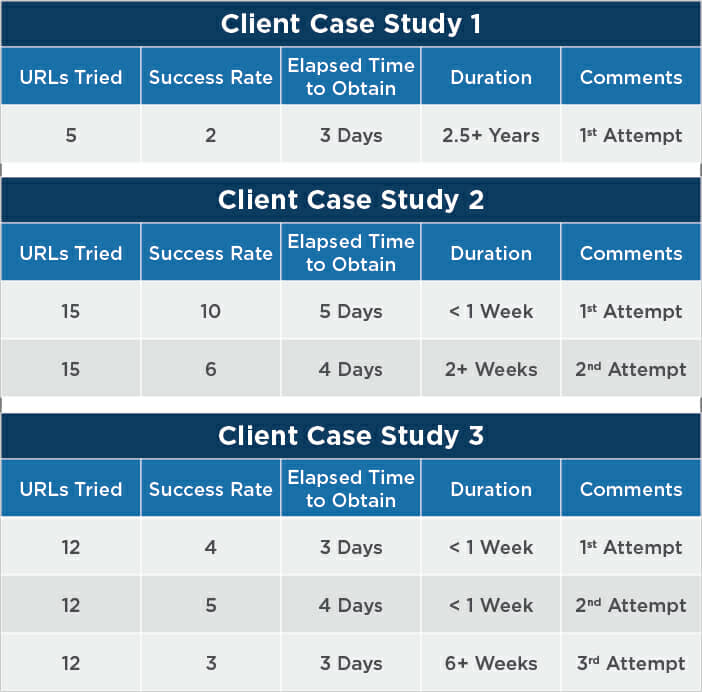 As you can see, persistence is key.
Summary
We use these processes regularly with our clients, and they work. The benefits are significant. If your page is ranking number five for a search query, it may be less work to jump to position zero than it is to get to position one.
Keep in mind too, that this procedure will arguably help you improve the quality of your content on your pages as well, and that's a good thing.
Lastly, this will also set you up quite nicely for a voice query driven world where position zero becomes Position Only.
Want to keep learning? Check out all of our digital marketing research studies.