The pharmaceutical and biotechnology industry is an incredibly rewarding place to work. We get to help patients feel better, more effectively manage their conditions, cure their diseases, and even prevent them from getting sick all together.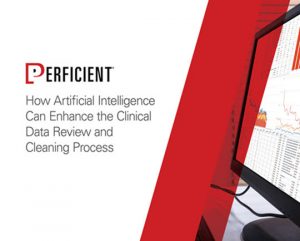 This guide analyzes how artificial intelligence – including machine learning – can be used by pharmaceutical and medical device companies to improve the clinical data review and cleansing process.
But the life sciences industry is not without its challenges. According to a recent Pharmaceutical Research and Manufacturers of America (PhRMA) report:
It takes an average of 10-15 years to develop a drug
Fewer than 12% of drugs that made it to the clinical trials stages are approved
The cost to develop a drug has skyrocketed from $1 billion to over $2.6 billion in the past decade
Why does the drug development process take so long and cost so much? In an upcoming series of posts, we will attempt to answer this question by providing insight into the United States Food and Drug Administration (FDA) drug approval process. These posts will cover:
Preclinical: Compound development, animal testing, and investigational new drug (IND) applications
Clinical: Clinical trial phases I, II, and III
NDA Review: Pre-meeting for a new drug application (NDA), the NDA itself, the NDA review process, drug labeling, facilities inspections, and (finally!) drug approval
Post-Marketing: Clinical trial phase IV
Stay tuned! While you await the upcoming posts, feel free to download our latest guide by filling out the form below.