Have you ever had a client that has a case SLA of less than 5 minutes? Well, let me tell you they do exist, and every click, drag and scroll counts towards making sure you close that case as soon as possible.
When your agents are coming from using only emails to communicate with Partners and having cases being created from Splunk, users might have to go from one window to the other and one tab to the other without ever being able to easily see an overview of their case. So obviously, the go-to system to fix this was Salesforce Service Console. With the ability to have information being displayed from multiple internal sources, users are now able to manage everything from one location. Emails come in and are converted into cases and emails go out with solutions or knowledge articles to close the cases.
With the introduction of Lightning, the Service Console is getting even faster with the new, enabled by default, additions coming in the Summer '17 release. Here are the top 5 features I think will help your service team shave a couple more seconds to a minute off of their case resolution:
List Views
List Views are now visible at the same time as you work on your Case with the Lightning Console Split View. No more flipping back to the Home Case Tab and trying to find your next Case, you can access all of your Custom Lists by expanding or collapsing the left hand panel.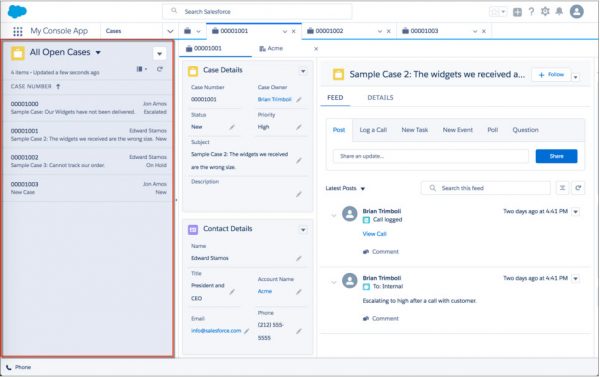 Drag and Drop
Yes, you heard me right, you can now drag and drop files into Salesforce Lighting Service Console. No more trying to find that file you saved on your desktop and somehow changed name by the time you saved it and went to look for it. Simply Drag and drop onto the Files or Attachment related list and "voila." Lightning Experience will have to be used for this addition to work.

Keyboard Shortcuts
The mouse is of the past. With keyboard shortcuts, you can go through the whole process of taking ownership of a case to closing it without even touching your mouse! Save, Edit, close and navigate to list views, the publisher and open utilities all from your keyboard. Here is a quick look at what shortcuts you can expect for Lightning Experience only:
Collapsible Feed
The Feed on your Case can sometime become this long and messy part of your view that you wish you could somehow filter to only show the relevant information you want. Well good news, the Feed posts are now collapsible which means you can easily view what is important to you without having to scroll down 2 weeks of back and forth between Support Agents. Unfortunately, you will have to move to Service Console Lightning to be able to make the most of this change.
Case Hover Feed
Finally, the last item that will help your support agents save some precious extra seconds is the ability to view the last update from the Case Hover. No more opening of Cases to see the newest item in the Feed, you can now see it from the Hover itself! Although you can customize the Case Hover by editing the Compact Layout for the Object in Setup, you will not be able to customize what Item shows up. It will always be the latest update on the specific record.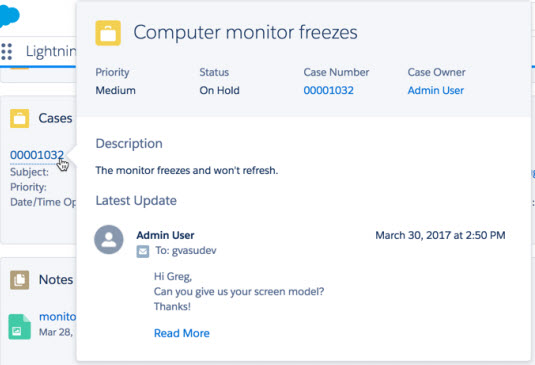 Learn more about other enhancements in the Salesforce Summer '17 Release Notes. Want to know more about our Service Cloud practice and how we've helped Salesforce customers increase agent productivity, improve customer satisfaction and enable self-service. Visit our website and be sure to look for the featured client success stories.