Baseball is a big part of my family. I have three sons, and all of them play for Westfield Youth Sports (WYSI) in Westfield, IN, a suburb of Indianapolis. I first got involved in the organization six years ago as a coach for one of my son's teams. The work / life balance at Perficient has afforded me time to take part in key events, including one of the most memorable at the start of the 2017 season.
In 2016, I was elected to the board as the director of Communications. My responsibilities included maintaining the website, along with email and social media communications to the WYSI members. This January, I transitioned to the director of Fundraising.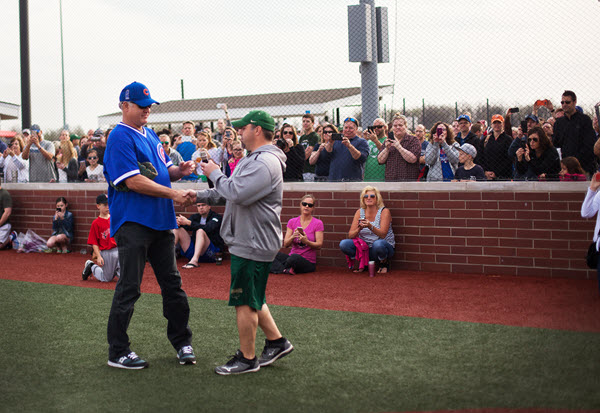 I was fortunate to serve on a committee that organizes WYSI's largest annual event – the Opening Day ceremony. This year's event took place on April 15 at Grand Park, one of the largest youth sports facilities in the nation. The ceremony began with a parade of players walking onto the diamond with the local high school team creating a high-five tunnel for the kids to march through. One of the local elementary school choirs sang the national anthem. An award was given out to an athlete who has overcome diversity in the past year (pictured below – I'm on the far left). The award recipient also drew the ticket for the First Pitch Raffle, and the winner got to throw the opening-day pitch to Chicago Cubs Hall of Fame second baseman, Ryne Sandberg.


I have been honored to meet Ryne Sandberg on a couple occasions during the past year and introduced him to the players and families that morning. (That's me at the top of the page at right with Ryne.) Right after the first pitch, the ceremony ended with everyone singing, "Take Me Out to the Ballgame."
It is personally very rewarding to be a part of the team that organizes the Opening Day ceremony and even more rewarding watching the players celebrate the first day of baseball/softball.
I thought this year's event was one of the best because we not only had Ryne Sandberg in attendance but my three sons also won each of their baseball games that day.


I am a Lead Technical Consultant at Perficient, and my skills have also allowed me to take on projects for WYSI and complete them with great success.
With my experience as a web developer/designer, I've been able to use my knowledge to enhance and optimize the organization's website and communication processes.
I look forward to continuing to serve the organization, and spending quality time with my sons.
---
Learn more about what it's like to work at Perficient here.
Follow Perficient's Life at Perficient blog on Twitter via @PerficientLife.
Connect with Perficient on LinkedIn here.