What I'm about to tell you has been said and done before. Quite frankly, most of it is pretty common sense. But, common sense sometimes just isn't enough to get businesses and executives motivated to alter and improve their eCommerce shopping cart. If it was, we'd be having an entirely different conversation and users would not be abandoning their cart at such a high rate.
Instead, let's talk about the business impact a few subtle cart changes can have on the bottom line. Below are the top 5 reasons consumers on eCommerce sites abandon their cart. If these are addressed correctly, you can see dramatic impact on your bottom line. From unexpected shipping costs to forced account creation, limited trustmarks, missed retargeting opportunities, and underestimating the power of a discount, these are continuously stealing money from your business.
#1 Unexpected Shipping Costs
This comes first as it's likely the most impactful for eCommerce businesses. Many eCommerce websites make the mistake of not providing the customer with shipping costs upfront, and consequently may preempt their clients into cart abandonment with the surprise. Multiple studies, including the VWO eCommerce Cart Abandonment Report, have found that 25% of users say that unexpected shipping costs were one of the biggest reasons they abandoned their cart. It has also been found that 45% of users add items to their cart just for the purpose of calculating incremental shipping costs. Clearly, these statistics reveal how significant shipping costs are to users, and underscore the value in providing these figures upfront.


#2 Forced Account Creation

The second, and perhaps the most delicate item, is forced account creation. Almost every eCommerce site has this feature and likewise, almost every user dreads this phase of the checkout process. The VWO eCommerce Survey 2016 found that at least 22% of all users abandon their cart due to forced account creation. It's a fact: account creation is a conversion killer, blocking valuable users from completing their purchase. Despite these statistics, membership growth is essential to many online businesses. If that's the case for your business, you may find yourself balancing two very difficult choices. Consider the following options to uncover ways to help alleviate the pain of creating an account: "Social Login," "Continue as Guest," and "Register Later."
If you haven't considered using a "Social Login" option, think about it now. Users are much more likely to remember their username and password from their social networking accounts than their retail accounts. Not only does this allow them to sign in quickly, but it allows you to register them as a member.
If "Social Login" is not suitable for your target audience, there are other tactics for making the electronic purchase process easier. If you're not currently using a guest account option, I can bet you that your competitors are. The "Continue as a Guest" option is now generally anticipated by online users and makes their electronic purchases much easier. Without this option, users are either forced into creating an account or trying their best to remember their username/password, which leads them to a whole new trail of steps likely to lead them to abandon their cart.
Another option to consider is providing an optional "Register Later" feature. A "Register Later" option can help lessen the irritation customers may experience with having to provide information right away. Many consumers feel a sense of urgency when making eCommerce purchases, and allowing them to take care of customer registration after completing their order can give them more peace of mind.
#3 Limited Trustmarks
According to Consultancy, nearly 48% of users find trustmarks to be a deciding factor as to whether they should complete a purchase. Seeing that the average online user likely has little to no background into the technical security of a shopping cart, it makes sense that trustmarks are an easy way to reinforce the security of your website. Adding visual security cues throughout the checkout process provides the user with a perception of security, regardless if they notice them or not. Considering how influential trustmarks can be, Baymard Institute conducted a study on "Which Site Seal Do People Trust the Most?" and found that Norton led the way, followed by McAfee. The bottom line is that security symbols help instill a sense of trustworthiness, and higher levels of trust result in higher likelihood of finishing a purchase in the cart.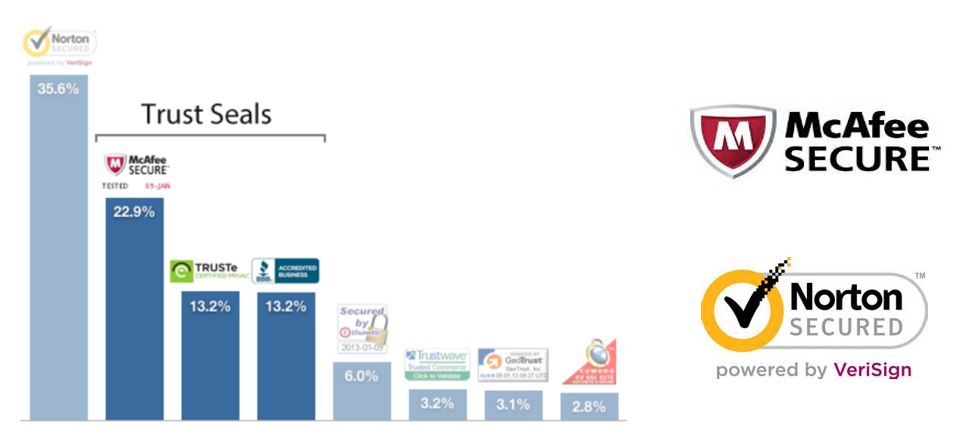 #4 Missed Retargeting Opportunities
Believe it or not, 72% of abandoned carts are not permanently lost (VWO). That's great, right? It is if you are proactively taking strategic initiatives to bring those users back to your site. Without the appropriate action, 41% of users are purchasing from another site. THIS is the missed opportunity! The solution? Retargeting, retargeting, retargeting! Users want to be persuaded, especially since 21% of users would purchase a previously abandoned product if they were to see an ad on another website. These users have proven that they are interested enough in the product to add it to their cart, and with just a little pushing, you can get them back to your site to make a final purchase. This is why your company needs to capitalize on this powerful and effective form of marketing.



#5 Underestimating the Power of Discounts 
I'll be the first to admit it, time sensitive discounts work on me nearly every time. Luckily, I'm not alone as 99% of passive window shoppers admit time-bound incentives can encourage them to seriously consider buying a product. In VWO Cart Abandonment Report (2016), they also found that 58% of users say they will purchase a product originally abandoned if they get an email saying it's now discounted. Need I say more? Users want the lowest price available, that's why at least 22% of users bought the product initially abandoned from a website with a better deal. Users have already shown interest in your product, now all you need to do is show interest in the user. Consider time-limited discounts to encourage indecisive consumers to make a purchase.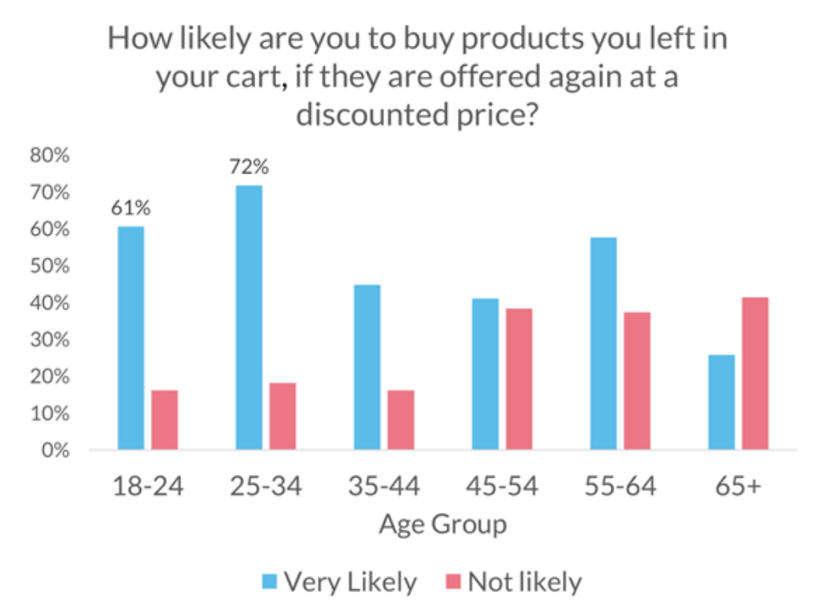 via Kissmetrics
In this digital age, consumers are in control of the market. That is why it is essential for the checkout process to be optimized for the average user. Incorporating these problem-solving methods can result in happy customers who will complete a purchase today, and even more in the future.