When it comes to clinical trials, bad data can result in severe consequences. Research and development can become more complicated and lives can be put at risk. Clean clinical data is critical for accurate analysis and reporting, ultimately enabling safer drugs and devices to be brought to market faster.
In this two-part blog series, we'll discuss several challenges associated with the clinical data review process, as well as why and how you can leverage a solution like Oracle Health Sciences Data Management Workbench (DMW) to tackle those challenges.
CLINICAL DATA REVIEW CHALLENGES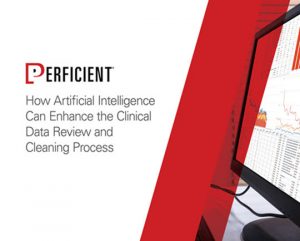 This guide analyzes how artificial intelligence – including machine learning – can be used by pharmaceutical and medical device companies to improve the clinical data review and cleansing process.
The clinical data review process is by no means simple. It involves several different types of reviewers (e.g., medical monitor, safety manager), each with their own expertise, priorities, and evaluation criteria. In addition to that complexity, most organizations are capturing and storing clinical data in multiple systems, each with a different data format, making standardized/consistent reviews exceedingly difficult and corrections to data in source systems cumbersome and time consuming.
As you conduct your clinical data review, a variety of important questions may arise, including:
With all of those complications, how can you tell how much of your data is left to review before reaching study lock?
How much time do your reviewers and monitors need to allocate for review purposes?
Is the review complete?
Who raised a question about the data?
Who needs to review the question?
Is a study ready to be locked?
Is it ready for a planned study milestone?
What data has changed since the last milestone, interim report, or review?
What data is new?
What needs to be looked at again?
What data needs to be reviewed immediately?
What are the outliers?
Are the outliers reasonable?
Questions from outside parties are also common:
Who reviewed the data?
When was the data reviewed?
What exactly was reviewed?
How did you ensure your data was clean?
The ability to combine data from multiple sources using a standard data structure can help you answer all of these questions and more, as well as obtain a more accurate picture of your studies and plan better for the future. Additionally, being able to streamline and standardize the clinical data review process, including the ability to annotate data and collect/collate comments in a central location, can save you time, money, and some serious headaches.
Be sure to check out the second half of this blog series about how Oracle DMW can be used to address clinical data review challenges like these. You can also click here to read our guide on the topic.