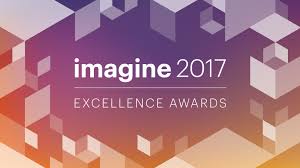 Carrier Enterprise, a provider of heating, cooling (HVAC) and ventilation aftermarket parts via online channels, was recognized at Magento Imagine's 2017 awards ceremony April 2nd-5th. CE, along with Perficient Digital, received the award for Best B2B Customer Experience by Magento. Magento Imagine is a conference where more than 2,500 eCommerce agencies, tech providers and experts from more than 40 countries gather to celebrate best practices in the industry.
The Imagine Excellence Award for Best B2B Customer Experience is given to the brand that offers top  self-serve user interface that focuses on the indiviaul needs of wholesale, industrial or commercial customers. The judges recognized the Customer Experience technology platform for its exceptional user experience, beautiful design, and an innovative approach to the way CE does business. Using Magento, Perficient Digital built a site for Carrier Enterprise that provides an efficient, flexible ordering process ensuring timely delivery of parts to HVAC contractors and helps them complete more jobs per week. Carrier Enterprise's online sales increased from less than 5 percent to more than 10 percent of total sales within nine months of launching the site. Daily online sales continue to rise, and online transactions have tripled.
"It is an honor to be recognized by Magento with this prestigious award," said Ed Gaffney, president of CE's digital business. "Our partnership with Perficient Digital and Magento has allowed us to accelerate our launch-and-iterate B2B digital commerce strategy. We're continually improving the customer's experience by enabling engagement, technical support, and sales on any mobile device 24/7365 while building the largest source of digitized HVAC content in the industry."
"Selecting a robust Magento-powered eCommerce platform allowed us to quickly scale to unprecedented online sales growth," said Vincent Mugavero, eCommerce director at CE. "It was the one cost-effective and flexible choice, able to adapt to our many B2B distribution requirements and integrate into our digital ecosystem."
To read more about this prestigious award, click here or here!
For more information, visit perficient.com.