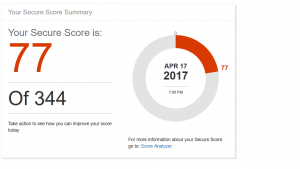 I get asked quite a bit about security services within Office 365. Typically, administrators are aware of the Admin Center and the Security & Compliance Center, but there are security configuration options in the Exchange, SharePoint, and OneDrive for Business Admin Centers as well. There isn't one "place" to set up a comprehensive security implementation. And, as an administrator for Office 365, it can be difficult to find, evaluate, and then configure a complete security roll-out when it's hard to even know what all of your security options are.
Now you can use the Secure Score dashboard to help. Secure Score determines what Office 365 services you are using, then looks at your configuration and behaviors. If your configuration and behaviors are in line with security best practices, you will get points, and you can track those points over time. More points = more secure. It's that simple.  The goal is not to obtain the perfect score; it's to achieve the appropriate score for your business.
The best feature is, you can quickly determine what features and configurations you can use to proactively reduce risk. Rather than reacting or responding to security alerts, the Secure Score dashboard lets you track and plan incremental improvements over time. The Secure Score points are not an absolute measure of how likely you are to get breached but it does measure the extent to which you have adopted controls which can offset the risk of being breached.
I'm helping my clients use the Secure Score service to up their security game, help them be confident in having their assets in Office 365, and provide overall peace of mind.