Rise 2.3 Released
We are very excited to announce a new milestone in the evolution of Rise, Perficient's solution for the modern intranet. Today we are able to announce the immediate availability of Rise 2.3 for our existing and new customers. Rise 2.3 delivers 5 new Directory experiences (Applications, People, Documents, News, and Media Assets), allowing advanced filtering, sorting, and deep linking. In addition Rise 2.3 introduces 3 brand new web parts along with dozens of enhancements and updates.
We Have a Directory for That
Rise 2.3 provides a new and improved Directory experience for Applications, People, Documents, News, and Media Assets. Built for speed the Directories allow you to find information quickly whether you are searching for experts in your organization or find the document you recently worked on.
The advanced sort and filter capabilities of the Rise allow you to churn through reams of data to get to the things that matter quickly by providing type-ahead suggestions and advanced metadata filtering.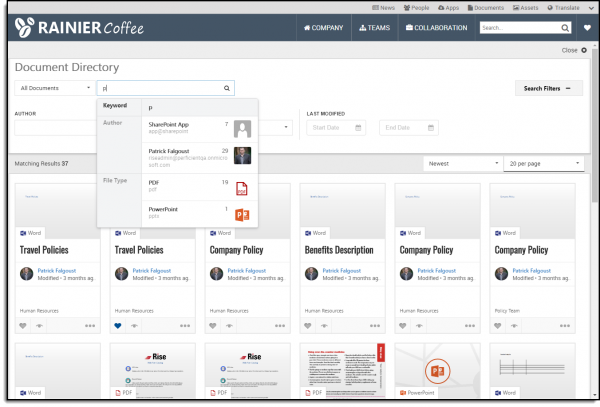 Directories are supported for many common intranet scenarios:
Applications– provides access to the applications people use everyday
People – search user profiles to locate individuals and expertise
Documents– locate and preview document content quickly and easily
News – locate the most relevant news
Assets – locate images and digital assets

Directory cards provide purpose built displays for each data type, highlighting the most important data and surfacing common actions such as Favorite, Share, Preview, and more.
New Web Parts
Rise 2.3 introduces 3 brand new web parts. Rise now ships with a total of 27 unique web parts that can be used to enable your intranet solutions.
Breadcrumb Web Part


Shows the path from the root of your site to the current page.
  World Clock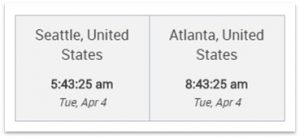 Shows time/date for specified locations around the world.
 Call to Action

Displays a call-to-action advertisement with an action link to a specified page.
More…
In addition to the above new features Rise 2.3 introduces numerous enhancements and updates:
Framework
Improvements to the Theme/Branding abilities for individual web parts and menu.
Improved provisioning process.
Menu upgrade to allow widget rendering such as Weather.
Performance enhancement for application page rendering.
Updates to existing Features
Application Directory Web Part responsive behavior
Modal event view on Calendar Web Part
Lightbox support on Image Web Part
Filter improvements on Menu
Site navigation storage improvements.
Added paging to Spotlight web parts
Added image preview to key documents web parts
Web part property grouping/optimization
Added grid view for Recent Activity web part.
Allowing maps to run on a Client ID or an API Key
Added ability to blacklist accounts in the People Directory
27 Issues Resolved
Existing customers can contact their Rise Customer Success Manager to schedule your upgrade. If you are not a Rise customer, let us show you how Rise can accelerate your intranet success. Contact us for a demo today!