Featured Snippets in Google Search put your site at the top of the search results. They feature an answer to the searcher's query with a link to the complete content, and
often drive a lot of traffic
.
Now you can earn them with YouTube videos! Find out how in this video.
Don't miss a single episode of Here's Why. Click the subscribe button below to be notified via email each time a new video is published.
Resources:
Transcript
Mark: Hey there, Here's Why fans! Recently, we were working on a study looking at the different ways search engines and personal assistant devices answer questions directly.
Eric: And Kiki, one of our researchers, stumbled upon something we'd never seen before.
Mark: You're looking at it right now, in fact.


Eric: Now, if you're familiar with featured snippets in Google search, this may not look all that special, but look closer. See the URL this snippet came from? It's YouTube.
Mark: And that was our discovery. YouTube videos are now another source for featured snippets. Eric, remind our viewers why that matters.
What Are Featured Snippets?
Eric: Sure. Featured snippets are a highlighted box at the top of the search results which contains an answer, or partial answer, to the user's query, taken directly from a third-party website, or in this case, a video. That can be an amazing traffic driver if the answer shown as 'incomplete' has more steps than are shown, or simply arouses curiosity for those who want to know more and will click through to the site which it came from.
Mark: And those featured snippets from websites have been around for a while. What's relatively new here is that they can also come from a YouTube video. But, Eric, how does that happen? I mean, since the video itself isn't being shown in the snippet, from where is Google pulling the answer?
Eric: As it turns out, from the Description field of the video. So here's the description of the video that was the source of the featured snippet we showed you earlier. The text in the red box is what Google grabbed for the answer to the question shown in the snippet in search.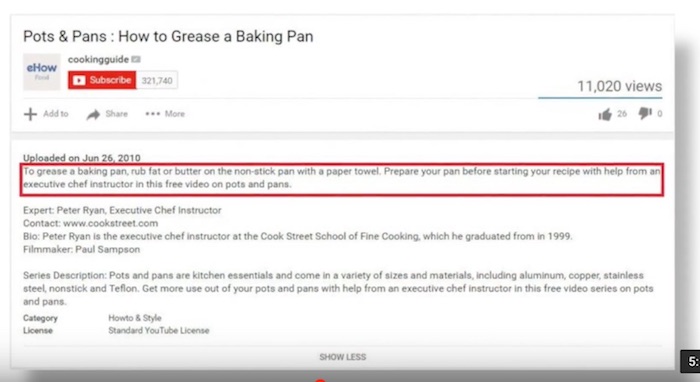 Mark: But if the answer is shown in search, why would anyone click through to the video itself?
Eric: Well, in this case, I think there's a good chance that many will. Notice that the answer given is very brief, the quoted text in the snippet goes on to indicate that there's a video showing the right way to prepare a pan, and it has an expert chef showing you how to do it. Also, of course, the URL clearly indicates that it leads to a YouTube video, and you can click on that URL to see it.
Mark: Right, and in our previous examinations of featured snippets, we found lots of cases where people did indeed click through to the linked site, even though an answer was given in the snippet.
Eric: For sure. So, getting these types of snippets could be a great way to bring people to your video channel. And if you have it set up the way you should, if they like your video, you can entice them to subscribe to your channel, and now you've gained not just a viewer, but a long-term fan.
Mark: Great, but how can you optimize your videos to increase your chances of getting these video-featured snippets in search?
How to get YouTube videos in featured snippets
Eric:
Work hard to get your videos ranking well in search organically. Just as with featured snippets from web pages, you don't have to be the number one result, but you typically have to be in the top ten.
Place the answer to the question your video addresses in the video description, preferably near the start of the description, and keep it brief. If the video has a longer complicated answer, just summarize it or list the basic steps in the description.
Mark: And I would think, for anyone not already using YouTube videos in their marketing, this would be an added incentive to get started.
Eric: Absolutely. YouTube itself is a very popular search engine and a primary place that people go to learn things or find out how to solve problems, and well-optimized YouTube videos can often rank on the first page of Google results, as well. Now, with this featured snippet opportunity, there's even more potential for some of your videos to rocket to the top of search.
Mark: Definitely worth trying out.
Don't miss a single episode of Here's Why. Click the subscribe button below to be notified via email each time a new video is published.