At the Collaborate 17 conference, I attended the official announcement of the release of Oracle Analytics Cloud (OAC), delivered by John Hagerty, VP of Product Management. It was a clear message from Oracle BI Product Management that Oracle's Cloud BI offerings are positioned to provide a solution for "Everyone". "Everyone" here is primarily twofold: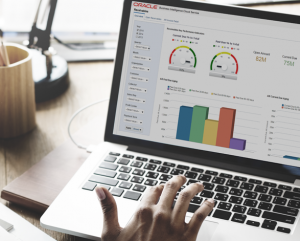 Explore key considerations, integrating the cloud with legacy applications and challenges of current cloud implementations.
First, BI cloud services are offered with options to cater to both independent workgroups as well as the whole enterprise. Of course in the case of the workgroups, the associated cost is lower. This is primarily offered through Oracle Data Visualization Cloud Service (DVCS), aimed for data discovery and advanced analytics within a department. Enterprise-wide, cross-functional and interdepartmental dashboard capabilities are offered through BI Cloud Service (BICS).
Second, Oracle's different BI cloud offerings are designed to suit both business and IT. It is a challenge often to balance information governance and control versus business ownership, flexibility and adaptability to evolving requirements, industry trends and capabilities. While DVCS and BICS are designed for the business as the platform owners, both of these cloud services are hit by limitations when it comes to gaining a higher level of control. For example, upgrades of DVCS and BICS are totally managed and controlled by Oracle and not the subscriber. This can be an attractive option that reduces maintenance and allows for business ownership. However, with OAC, subscribers now gain a much higher level of control of their cloud BI platform. Subscribers of OAC can take backups and apply patches and upgrades per their own timelines. In addition, they gain system level access to the servers to perform operations that are more specific to their organization, such as VPN setup.
Interested in seeing a demo of any of these Oracle Analytics Cloud offerings? Feel free to reach out to Perficient. We have demo services and we can do live demos of real-world use cases on DVCS, BICS and OAC.