If that title compelled you to open this post, then you know what 21 CFR Part 11 is, and you also know – as my 12-year-old step daughter would say – "the struggle is real."
21 CFR Part 11 is perhaps the most famous (or infamous!) regulation published by the U.S. Food and Drug Administration (FDA). It governs the use of electronic records and electronic signatures (vs. paper and ink) in the development, manufacturing, and oversight of drugs and medical devices. In other words, if you use software (instead of paper) at any point in your drug/device lifecycle, you are subject to this regulation.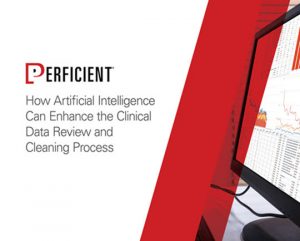 This guide analyzes how artificial intelligence – including machine learning – can be used by pharmaceutical and medical device companies to improve the clinical data review and cleansing process.
Like pretty much every other regulation that has ever been written, 21 CFR Part 11 is not especially…clear. So, we decided to change that. We tackled the regulation, line by line, and translated the legalese into language we can all understand and use. And then we thought, "Hey, this would be useful to virtually every organization in life sciences. Let's give it to them for free!" And that's exactly what we're doing. You can download your free copy right now by filling out the form below.
We hope you find it useful – and maybe even a little refreshing. Enjoy!