One of the primary jobs of search engine optimization is to help the search engines better understand the content on a website, so that it can serve up the best results for a search query.
Related: Learn how search engines work.
What Is Keyword Cannibalization?
Keyword cannibalization occurs when a site has more than one page focused on the exact same keyword. When this happens, it forces Google to determine which page is actually the most relevant for a search query. It will pick one of them to show in the results, and it may not be the one you want it to be.
Keyword cannibalization is not an ideal situation for a variety of reasons. We'll examine why in this post and then I'll show you how to address the problem.
Why Keyword Cannibalization is Not Good for SEO
One of the reasons we perform SEO is to have better control over the experience our website provides. When we don't work in tandem with the search engines to help them do their job better (understand web pages), they have more work to do, and the outcome may not be the preferred one.
The following diagram, taken from my book, "The Art of SEO," helps illustrate the point as it relates to keyword cannibalization: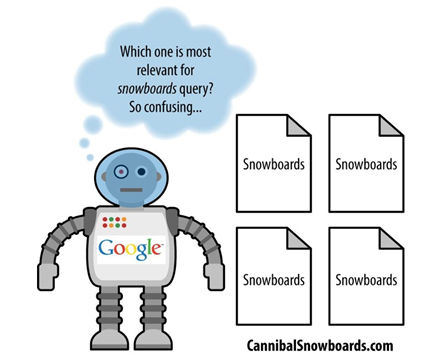 Having the same keyword targeted on multiple pages of a website doesn't make a search engine thinks your site is more relevant for that term. When multiple web pages seem to be too similar, it can actually send out negative signals.
Consequences of Multiple Pages Optimized for the Same Keyword
Poor content quality: Imagine if you wrote a book that wasn't well organized and had multiple pages of repetitive content. It definitely wouldn't be a page-turner. You want to offer useful and engaging content to the users of your website, and in doing so, attract links and referrals to it. Best of all, Google rewards websites with quality, organized content.
Diluted external links: Let's say you have multiple pages on your site about the general topic of snowboards, and you also have multiple external sites linking to those various pages about snowboards. Your site would be better off if all those sites linked to one page on the general topic of snowboards to consolidate link equity to that topic, versus splitting it amongst multiple pages on your site.
Diluted internal links and anchor text: When several pages target the same topic or keyword, you aren't able to leverage the value of internal links and anchor text to point to the most relevant (or your best) page on the topic.
Lower conversion rate: It's likely that out of multiple pages on the same topic, one or a few of those pages are converting better than others (as in helping you reach your website that business goals). You can test this theory by looking at your data in Google Analytics such as Tracking goals or Ecommerce Conversions Tracking, for example, or through tools like Optimizely. It's a waste of effort to have multiple lower converting pages targeting the same traffic.
[Tweet "Multiple pages optimized for the same keyword can damage your SEO in several ways. Learn more at"]
It's worth mentioning that keyword cannibalization can happen when something as seemingly simple as the title tags in the meta information appears to target the same keywords, even when the content on the pages are somewhat different in focus.
How to Fix Keyword Cannibalization
The solution to this problem is simple in theory, but can take some work. It's all about organization.
1. Look for duplicate title tags
First assess the content on your site to identify where keyword cannibalization might be happening, and then map out the preferred topical themes of the site, so that each page is targeting a unique topic (aka keyword).
You might first start with the easiest method of discovering a problem: identifying duplicate or problem title tags across the site. You can use a web crawler, such as Screaming Frog to help you do this. (At Perficient Digital, we also have our own industrial strength crawler that can crawl sites with hundreds of millions of pages).
[Tweet "1st step to fix keyword cannibalization: do a crawl and sort by title tags. More at"]
This type of tool crawls the site and outputs a file you can navigate and sort to have a bird's eye view of all the pages' meta information, including title tags.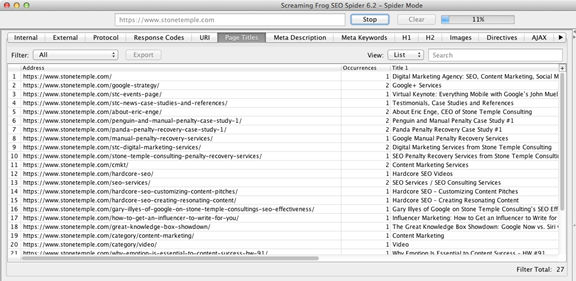 Just sort the output on the "title tag" column, and it gets easy to see duplicate title tags. Or, if you load the crawler output into Excel, you can use filtering to see how many pages talk about a given topic. For example, on the Perficient Digital site, we could see if we had more than one page talking about "SEO services" by filtering on that in the "title tag" column.
Once you identify any problem areas, you can start to update the content on the site.
2. Reorganize your site architecture
While it may be as simple as fixing duplicate title tags, you may need a more robust restructure of the content on the site if more than one page seems to be targeting the same topic in the body content.
One of the ways we can reorganize a website's information architecture is first by visualizing what an organized architecture would look like, taking the pages and target keywords you already have and regrouping them as needed. This may leave you with some gaps to fill in terms of the topics you want to target, and you may need to write some new content.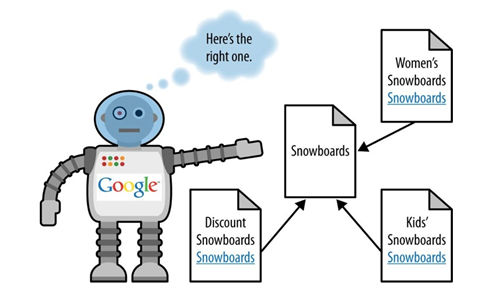 You can use various visual tools to help you do this, like Balsalmiq, or even a simple spreadsheet.
[Tweet "To fix keyword cannibalization, reorganize your site architecture by topics and subtopics. More at"]
By the way, in the example shown in the image above, if your site has a lot of authority, Google may choose to show more than one of the pages on a query like "snowboards." This is NOT a case of cannibalization. You've clearly differentiated the titles (and hopefully the content as well), so this is not a problem at all.
When you're done, your site might look like this: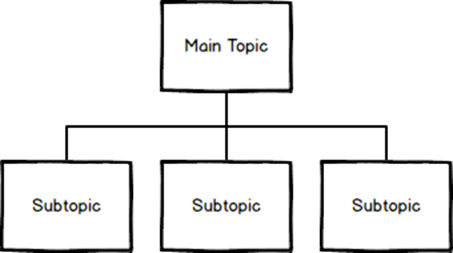 In the image above, you can see the information architecture is well organized. There's a main page on the general topic, and supporting pages on various subtopics.
This helps Google choose the best web page for a query, and helps users navigate the site more easily to find what they are looking for.
Conclusion
Is your website cannibalizing its own target keywords? Sometimes all it takes is the right tools and minimal effort to fix the issue, and other times you may have to undergo a big content and keyword reorganization project.
No matter what side your site is on today, taking the time to remedy this common issue can pay dividends for your SEO strategy, helping search engines better understand what each individual web pages is about, thus expanding your ability to show up more in the search results, and for more queries.
Art of SEO Series
This post is part of our Art of SEO series. Here are other posts in the series you might enjoy: