A recent Perficient webinar, Orthofix Improves its Financial Close and Consolidations with Oracle Cloud (ARCS & FCCS), held a captive audience for a solid 20 minute Q&A session. In this two-part blog post, I'll share the highlights of questions asked by attendees and answered by both Perficient and Orthofix.
Why did you choose the Cloud version of Account Reconciliation Cloud Service (ARCS) and Financial Consolidation and Close Cloud Service (FCCS/FCM) instead of the on-premises version?
Orthofix — One of the main reasons was that minimal to no hardware and software maintenance was required on our part.
Upgrades and Patching are always a challenge. In this implementation, there were no servers to buy, no licenses for software. There was no burn-in time for servers. I didn't need to have somebody come in and do all the installation, do all the settings, the infrastructure needs. We literally turned in the purchase order, Oracle got their money and we got an email that our instance was on.
Traditionally with an on-prem installation, you have on-prem servers and software to upgrade when a patch comes in. With cloud, the updates come once a month (in batches) and we don't have to deal with all the infrastructure changes. There's been no down-time during production hours.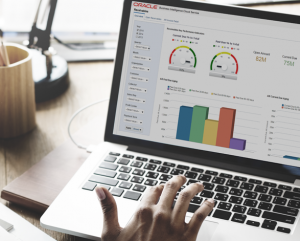 Explore key considerations, integrating the cloud with legacy applications and challenges of current cloud implementations.
Is Oracle's strategy to offer the same features whether on-premises or Cloud?
Perficient — We maintain close contact with Oracle EPM product managers. What we have heard from them is that a lot of the features and functionality are going to come first to Cloud. That doesn't mean that new features won't come to on-premises products, the trend is toward Cloud first.
What does total cost of ownership cloud vs on-premises look like for consolidations and for budgeting?
Perficient — It is really specific to customers. Between infrastructure support, IT resource allocation, and upgrades, we're generally seeing that it's favorable to Cloud most of the time. How beneficial cloud is depends upon which applications and what functionality within those applications you're going to deploy.
Is there any ROI or time savings that you have had so far using this product?
Orthofix — Yes, one of the big benefits is the close management part of it with all the tasks and the interdependencies that you can setup. We've been able to move a lot of the things around, so that people are not sitting around and waiting for somebody to complete their task. It has really helped move the close process faster. One of the benefits of the account reconciliation tool is the auto reconciliation part of it. Users don't have to spend time on accounts that have same balances as of prior period. Plus, being able to load all data through FDMEE assures us that all accounts with balances are being reconciled. This helps us with the auditor's questions and SOX compliance.
If backups are owned by Oracle, is there a need for the customer to take backups as well? If needed, will Oracle restore from backup?
Perficient — Oracle will back up the environment as part of your subscription on a daily basis. For customers who are looking to have incremental backups or point in time snapshots, they do have the ability to do a Life Cycle Management or (LCM) export. If they have that snapshot at their disposal, that can be restored at any point later in time. It is standard practice from a Cloud backup perspective.
Can Hyperion Financial Management (HFM) be replaced by FCCS?
Perficient — The short answer is yes. There are some functions that are in HFM today that are not generally available in FCCS. However, it's a very small list and what we've been told by Oracle is that there will be full parity between HFM and FCCS by end of their fiscal year, which is May 31st. A lot of new features are constantly being released with each new patch set for the Cloud version. Perficient has conducted many customer Cloud readiness assessments on HFM and we have already converted a customer over from HFM to FCCS and are already live and closing their books on FCCS.
Look for the second blog post associated with this event, where Orthofix will share more about their unique implementation with you.