In the age of what Mark Schaeffer calls "Content Shock," content marketers are challenged with producing enough content to keep their audience, but without sacrificing quality.
In this episode of our popular Here's Why digital marketing video series, Mark and Eric explain why taking a thematic approach might be the best way to address both of those challenges.
Don't miss a single episode of Here's Why. Click the subscribe button below to be notified via email each time a new video is published.
Resources
Transcript
Eric: As content marketing continues to gain in popularity, its challenges grow as well.
Mark: There's the challenge of creating enough content to maintain audience and reputation, but without sacrificing quality.
Eric: And there is the challenge of increasing competition for the attention of your audience.
Mark: In this episode, we want to give you one strategy for dealing with both of these challenges: thematic content.
Eric: Thematic content comes in two varieties: type-focused and topical-focused. Mark, let's deal with type-focused thematic content first.
Type-focused Thematic Content
Mark: Sure, Eric. Well, type-focused thematic content means choosing a set of content media on which you will focus over a period of time. Examples of types include blog posts, videos, podcasts, infographics, research studies, and so on.
[Tweet "Thematic campaigns allow you to build on your expertise for better content. More at"]
Eric: Whichever type you decide to focus on, the advantage you gain is being able to invest in the resources and education needed to be able to do that form well and consistently. In fact, you're looking at an example of that right now.
Mark: Where?
Eric: Right here, Mark. Two years ago, we decided to commit to turning out a new Here's Why video episode every Monday. That was also a commitment to producing something worth watching week-in and week-out.
Mark: So, we did a lot of research on what we'd need to build a video studio, hired people who knew the craft better than we did. And we developed a process to generate ideas and prepare the scripts, costumes, and props needed for 50+ videos a year.
Eric: The payoff of all that effort is a content product that has become strongly identified with our brand, and one that has developed a growing loyal audience who look forward to each new episode.
Topic-focused Thematic Content
Mark: Now, the other type of thematic content is topic-focused.
Eric: This is where you choose a topic area and create all or most of your content around that theme for a period of time. Maybe for a quarter, a whole year, or even more.
Mark: So, the advantages of that approach are multiple. For one thing, you already know what you're going to write about next because at the beginning of a thematic campaign you make an outline of all of the aspects of the topic that you want to cover.
Eric: And because of that, you can plan out the research, data collection, or other preliminary work you'll need to do in advance.
Mark: Now, also, your audience will begin to think of you as an expert in that topic, and the association will be much stronger than it would be for a one-off piece.
[Tweet "Topic-focused thematic content helps you build reputation with your audience. More at"]
Eric: You'll also now have a series of pieces that can link to each other, which will keep readers on your site longer.
Mark: And when the thematic campaign is done, you could even repurpose the series into an ebook or some other kind of long-form, in-depth content.
Eric: In addition, building a rich set of content, exploring many facets of the same theme, just might be good for your SEO authority on that topic. And in addition, you'll condition the media and the marketplace around you to look for that content from you on an ongoing basis.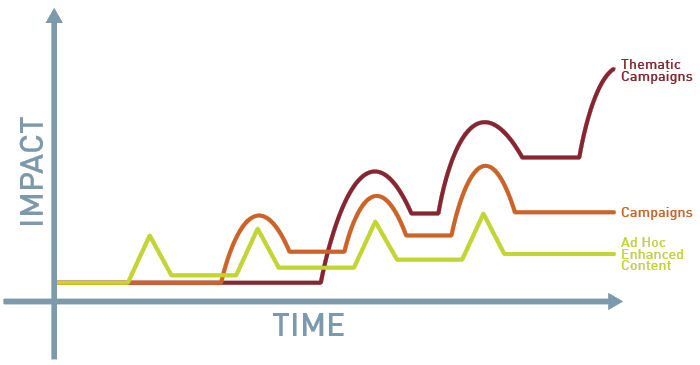 Mark: So, as you're thinking about upcoming content plans, learn to think thematically. Choose a few media types to excel in and come up with some worthwhile topics to explore in a continuing series. Doing both of these will help you in coming up with the consistent, high-quality content you need in building authority and reputation on topics you want to be known for, and in keeping your audience engaged with your brand and top of mind.
Eric: All of those advantages taken together mean that, while thematic campaigns might have a higher upfront cost to launch, once they take hold the cumulative good effects help them to leapfrog over one-off content efforts and even out-perform more short-term campaigns.
Don't miss a single episode of Here's Why. Click the subscribe button below to be notified via email each time a new video is published.