Perficient is proud to be a sponsor at Collaborate 17, which is being held April 2-6 in Las Vegas. It's an opportunity for the Oracle user community to come together to share and learn through sessions, panels and networking events. We are honored to have been invited to present on six unique topics across multiple tracks at Collaborate and hope you can attend one or all of them!
Visit us at booth #822 to meet with subject matter experts and thought leaders and learn how we've leveraged our extensive expertise in ERP, EPM, Customer Experience and Business Intelligence to drive digital transformation for our customers.
Perficient, an Oracle Platinum Partner serving clients for more than 15 years, provides its clients digital experience, business optimization and industry solutions and support. We're committed to partnering with our clients to tackle complex business challenges and accelerate transformative growth. Perficient's Oracle consultants are certified to deliver the official Oracle course curriculum to customers via onsite training classes. Perficient owns and operates an Oracle Approved Education Center in partnership with Oracle University.
Perficient Speaking Sessions:
Sunday, April 2 | 12:30 – 1:30 PM | Siebel Innovation to Modernize the User Experience – You Don't Have to Settle for the Same Old Look | Sujiyit George, Technical Architect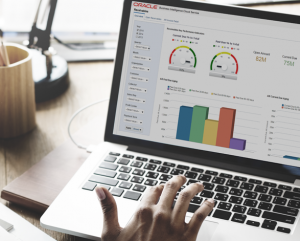 Explore key considerations, integrating the cloud with legacy applications and challenges of current cloud implementations.
Monday, April 3 | 9:45 – 10:45 AM | BI Cloud Service Financial Reconciliation between Planning & Budgeting Cloud & Transactional Data | Mazen Manasseh, Senior Solutions Architect, Business Intelligence
Monday, April 3 | 1:30 – 2:30 PM | Intercompany Processing and Advanced Global Intercompany System (AGIS) — Simply Balance! | Matt Makowsky, Director, Oracle ERP Cloud
Tuesday, April 4 | 11:00 AM – 12:00 PM | Leverage OTBI for Real-time Reporting Requirements | Pawan Kumar, Project Manager, Business Intelligence
Tuesday, April 4 | 1:30 – 2:30 PM | ODI Customizations to Achieve Fast-paced ETL for Oracle BI Apps | Pawan Kumar, Project Manager, Business Intelligence
Wednesday April 5 | 11:00 AM – 12:00 PM | Accelerating the Drop Ship Sales Flow Saved the Day | Amit Pandya, Lead Technical Consultant, Oracle ERP
If you are unable to attend, but would like to get a copy of any one of the session slides, please submit your request, and we'll ensure you get the slides after the show. See you in Las Vegas in a few short weeks!