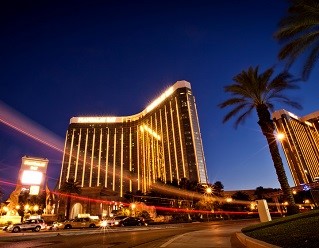 IBM InterConnect, the premier IBM user conference being held March 19-23 in Las Vegas, is quickly approaching, and we hope you'll be among those attending. There are three main ways you can connect with us during the conference:
Visit our booth

Perficient is proud to be a Gold Sponsor of this year's event. Visit us at booth 677 in the Solution EXPO, where you can learn how we've leveraged our extensive expertise in the IBM portfolio across digital experience, business optimization, cloud, Watson, and IoT. You can also pick up some great giveaways and try out a VR demo.

Strategize with our experts

You're likely at the conference to plan your initiatives for 2017 and work out roadblocks. With over 20 years of IBM expertise, we have a vast range of experience across the IBM portfolio. Our experts from a range of solution areas – Cloud, DevOps, Watson, Digital Experience, BPM, APIs – will be available to meet during the conference to strategize on your IBM needs and how to maximize your technology investment.

Join our sessions
We have a great line up of sessions for this year's conference, where you can learn from subject matter experts and thought leaders. Check out the details below.
---
JOIN OUR 2017 INTERCONNECT SESSIONS
Containers are the Future of Hybrid Cloud
Tuesday, 1:30 PM – 2:15 PM | Surf D | Session ID: 4853A
Containers can support a diverse set of workloads across multiple platforms and are perfectly suited for the hybrid cloud model. Join us as we discuss a real-life journey from a WebSphere Application Server environment to a Docker and WebSphere Liberty based hybrid cloud. We will cover the major topics you need to consider, from migration strategy and hybrid cloud architecture to Git repository layouts and Jenkins pipelines.
Speakers: Joel Thimsen – Principal Cloud Strategist, Perficient
Developing Hybrid Mobile Applications on the Cloud
Tuesday, 4:45 PM – 5:30 PM | South Pacific C | Session ID: 1761A
Capitalize on innovative new methods to create hybrid mobile applications while reducing costs. IBM Mobile Foundation on IBM Bluemix can host hybrid mobile apps that are cognitive, scalable, maintainable and secure—all from the cloud. Join us to learn more and see a demo of a comprehensive set of mobile application services powered by IBM Watson and IBM Mobile.
Speakers: Jay Ordway – Solution Architect, Perficient Inc
Transform Your Enterprise with IBM Cloud Automation Manager
Wednesday, 10:15 AM – 11:00 AM | Lagoon C | Session ID: 4112A
As cloud portfolios expand in enterprises, IT operations demand a unified, enterprise-grade cloud management platform that can manage multi-cloud environments—a platform that enables developers to build and run applications on variety of clouds; helps IT manage, deliver and govern; and allows IT to create policy-driven IT-as-a-Service models for the enterprise. Automation is at the heart of cloud management in hybrid cloud environments. Automation in the hybrid cloud requires an abstraction layer based on consistent, standardized APIs and a set of services. IBM announced Cloud Automation Manager, which gives clients just that, along with a self-service interface to manage multi-cloud environments seamlessly.
Speakers: Vishal Rajpal – General Manager of Cloud and DevOps, Perficient, alongside experts from Hurwitz & Associates, KPN, and IBM
Watson Health Cloud Bolsters Vitality and Improves Outlook with IBM UrbanCode Deploy
Thursday, 8:30 AM – 9:15 AM | Mandalay Bay Ballroom B | Session ID: 2129A
Watson Health Cloud is pioneering the future of healthcare with cognitive computing. The Watson Health offerings reside on a complex, global infrastructure and consist of many applications, resulting in a need to provide a consistent, automated, reliable process to deploy these solutions to many sites and users. Join this session to learn how Watson Health has adopted IBM UrbanCode Deploy and the UrbanCode Deploy Blueprint Designer to achieve full-stack automation of both their SoftLayer-based infrastructure and their diverse application workloads. The solution leverages both Chef and UrbanCode Deploy and scales to hundreds of virtual machines and users.
Speakers: Murad Korejo – Solution Architect, Perficient, alongside experts from IBM
Cognitive Disruption: Transform Your Business by Leveraging IBM Watson and Smarter Process
Thursday, 9:30 AM – 10:15 AM | Mandalay Bay Ballroom L | Session ID: 4492A
Business Process Management and Business Rules Management have led process transformation for businesses around the world. How can you gain a competitive edge to not only optimize your processes, but also introduce cognitive to augment and enhance your processes? Come learn how to incorporate IBM Watson into your business and transform your industry through best practices and lessons learned from our client implementation success stories.
Speakers: Graham Wallis – Director IBM BPM, Perficient & Christine Livingston – Director IBM Watson, Perficient
 Docker Deployments for the Enterprise
Thursday, 11:30 AM – 12:15 PM | Mandalay Bay Ballroom B | Session ID: 5300A
Containers are changing the way we deliver software, offering cloud portability, canary testing and zero-downtime deployments. The number of large companies using Docker in production is steadily increasing. But as organizations make this transition they are presented with new challenges: how to consistently deploy containers alongside existing application components; how to get visibility into which Docker image versions are running in each application environment; and how to manage the additional configurations such as ports, labels, volume mounting, etc. that come with microservices development. This session explores how IBM UrbanCode Deploy works with Docker to allow enterprise teams to deploy containers consistently and safely.
Speakers: Murad Korejo – Solution Architect, Perficient, alongside experts from IBM
---
NOT ATTENDING INTERCONNECT?
If you're not able to attend the event, stay up to date on conference topics by following us on social media and our IBM blog. Our
experts will frequently post the latest news and trends on solution areas like hybrid cloud and IoT and session recaps for those you miss.
Also follow us on Twitter and the hashtag #IBMInterConnect. At the top left of this page, you can also subscribe to our weekly IBM blog digest to receive a comprehensive recap of conference posts.