As was mentioned in a previous post, providing an easy-to-use interface is important for data review, including filtering, audit data, and User Review Action buttons. The user actions buttons initiate recording that all, or a portion, of a review has been performed.
In the previous section, we mentioned a Review Timestamp, which is one of the components used to establish new/changed data state. The user action button instructs the system to record the timestamp of the review, the type of review, the user performing the review against the records or records being reviewed, based upon the granularity of the review.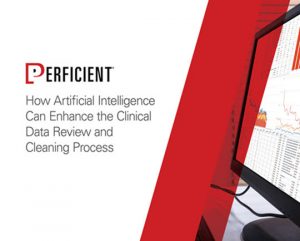 This guide analyzes how artificial intelligence – including machine learning – can be used by pharmaceutical and medical device companies to improve the clinical data review and cleansing process.
For performance reasons, it is recommended to create new review records rather than updating the source data. This is for a number of reasons:
The record being reviewed may be part of multiple reviews (different reviewers or class of review)
It is generally faster to write a new record than update an existing record and deal with currency issues (Keep It Simple and Fast approach)
If you are interested in learning how Perficient can help improve your clinical data review process, please send us an email or fill out the "contact us" form in the footer of this page.