After teaching several HFM 11.1.2.4 Create & Manage Applications courses, I have found several functionality advantages of HFM 11.1.2.4.
User Functionality

Greatest user improvement comes in Smart View and the Journals Extension. Users now have to ability to create and manage journal entries in Excel. We know that any time functionality can be completed in Excel, end users will adopt quickly.
New Architecture
Oracle Hyperion Financial Management is now platform-independent, and is supported on Windows and Linux (Exalytics). This release includes simplified deployment and streamlined integrations.
Note: Note that HFM Linux is only supported on Exalytics.
Profile Editor on the Web
You now create and edit application profiles on the Web. See the Oracle Hyperion Financial Management Administrator's Guide. The Web-based application profile creator and editor is a replacement for the Win32 profile editor. After you create a profile, you can create an application directly from the profile.
Multiple Selection of Load Files
Load screens have been enhanced to enable you to select multiple files to load simultaneously. The new multi-selection option is available in Load Data, Load Documents, Load Journals, and Load Intercompany Transactions. You can load up to ten files at a time. In the file selection area, you can also drag and drop files that you want to load. See the Oracle Hyperion Financial Management Administrator's Guide.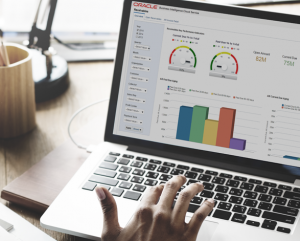 Explore key considerations, integrating the cloud with legacy applications and challenges of current cloud implementations.
Reordering Tabs
You can reorder tabs in Financial Management applications. You can drag and drop to reorder tabs, or you can use the Reorder Tabs dialog box to change the order. See the Oracle Hyperion Financial Management User's Guide.
Configuration Settings
Configuration settings are now available through the Financial Management UI. The available settings are displayed with their default values, ranges, and validation criteria. If you are an administrator, you can also override the default setting for certain configuration settings. See the Oracle Hyperion Financial Management Administrator's Guide.
Metadata Merge Utility
If you are upgrading to a new release from an existing release, you can use the Metadata Merge utility to merge your existing metadata files with the files in the latest version. This enables you to retain modifications that you made in your existing metadata file. The utility is located in the Utilities folder.
Launching Oracle Financial Management Analytics from Financial Management
From Financial Management, you can seamlessly access Oracle Financial Management Analytics and work with Financial Management dashboards. After you install Oracle Financial Management Analytics and run the configuration utility, you will see the Analytics menu option from the Consolidation menu, which connects you to the Oracle Financial Management Analytics Home page. See the Oracle Hyperion Financial Management User's Guide.
Performing Key Tasks On The Go With Oracle EPM Mobile
In its first release, Oracle Enterprise Performance Management Mobile enabled you to manage approvals and workflow across Oracle Hyperion Planning, Oracle Hyperion Tax Provision, and Oracle Hyperion Financial Management. The latest release of the mobile app supports critical Close Manager and Oracle Data Relationship Governance functionality.
Check out Perficient's Hyperion Financial Management 11.1.2.4: Create & Manage Applications course: