In the Age of the Customer, where everything and everyone is connected, delivering a connected service experience for your customers – from call center to the field – is an absolute must! As industries continue to face digital and technology disruption, we're seeing that the customer experience has overtaken product and price as the true differentiator for a brand. Typically, the focus for a service organization to transform the customer experience is streamlining business processes in your call center or through adding new capabilities via the web, live chat and social customer care channels. However, field service was not built for the connected world, and thus, is often overlooked as an opportunity to address new demands from a customer service perspective.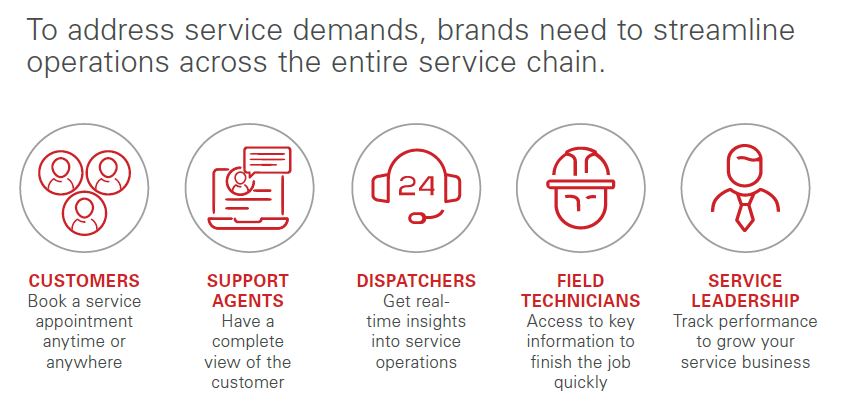 What's startling is that more than 55% of service organizations still rely on manual processes to handle field service operations. Furthermore, nearly 77% of companies still use on-premises field service solutions that are often inefficient and costly to maintain. Often times they're using a standalone system that's disconnected from CRM and there's a lack of mobile support which hampers operational efficiency and limits a field service worker's ability to engage with customers.
Turning Field Challenges into Opportunities for Customer Success
As the connected world continues to unfold – digital disruption is imminent. In 2017, service leaders must look to turn field service challenges into digital transformation opportunities for their business. To do this, there's a handful of field service trends you can't afford to ignore this year. One of those such trends is looking at the Internet of Things (IoT) as a way to provide added service-delivered value to your customers. IoT brings with it a set of unique capabilities, and a whole new dimension of data, to transform customer service from a reactive to a proactive and even predictive model.
Overcoming field service challenges with a modern field service solution, like Salesforce's Field Service Lightning, can not only help you control operational costs but fuel a differentiated customer experience to outshine your competition. It also opens up the door to drive new revenue streams as you transform from being product-focused to a service-driven organization.
To learn more about other key field service challenges, trends and opportunities for your business, plus how to best leverage the cloud to deliver a connected field service experience for your customers, download our new guide on Getting Started with Field Service Using Salesforce.