We rely more on anecdotal evidence for this but it's definitely a trend.  While B2C organizations continue to highlight the importance of consumer-based mobile we see that the hype cycle has begun to level out.  Mobile is important.  No one argues that.  Omnichannel is important. No one argues that either.  However, more companies now realize that their best strategy isn't just to make their site mobile or to get a cool app out there.  The best strategy is to give customers a great experience.  Here's a few reasons why we believe this to be a trend:
No one expects mobile web sites to be hard.  Software vendors and clients just set about doing it
Very few companies are doing "Omnichannel" strategy.  They are doing customer experience or digital strategy
Most companies we work with are pulling back from the over-abundance of mobile applications in favor of fewer, more carefully thought-out mobile solutions.
Mobile Web
The industry continues to mature.  With modern JavaScript frameworks and web content tools, even small companies find it relatively easy to create mobile friendly sites.  Web content or digital experience vendors now provide a huge amount of functionality almost out of the box. This includes:
Support for mobile sites
Preview content for phone, tablet, web etc.  They even let you create new preview options
Author content from a mobile device
Approve and publish content from a mobile device
I was speaking to a top tier web content vendor last earlier this week.  One person asked if they needed to prioritize mobile as part of a demo and her response was telling, "That functionality is just there. We do it as a matter of course.  We don't need any additional preparation. Companies don't prioritize it as part of the demo. They just expect it."
On the other hand, companies fully expect every site they release to be not just mobile friendly but fully supported. In 2016, we didn't see a single company create a customer facing web site that wasn't fully mobile optimized.  Keep in mind that fully optimized doesn't mean that you display all your content and functionality. It means you give a great mobile experience for what's important.  Companies get that now and hold conversations on optimizing the experience and prioritizing the work.
Down with Omnichannel
Don't get me wrong.  Creating a great and similar experience across many customer touch points remains important.  But companies no longer call it Omnichannel strategy because just the term limits them. Instead they focus on customer experience, digital transformation, or even digital strategy to get there.  These options expand the focus and allow them to address challenges beyond the front end.
Some companies continue to say omnichannel, however, they quickly move to customer experience.  A colleague of mine, recently completed an omnichannel strategy whose focus changed in the first week.  That retail company quickly focused on customer experience and what activities brought the most return on their investment.  Those activities included online to store ordering, enhanced mobile web capabilities, updates to ecommerce systems, etc.  (See my budget post for more info on that trend)
Mobile Apps
Yes, new cool apps are released all the time. Andrew Chen highlights this with a stunning graph on average usage for 95% of the apps in the Android store. But what we're seeing now is the frustration that comes along with releasing an app without taking the time to create a strategy, research your users' needs, and build something that adds value.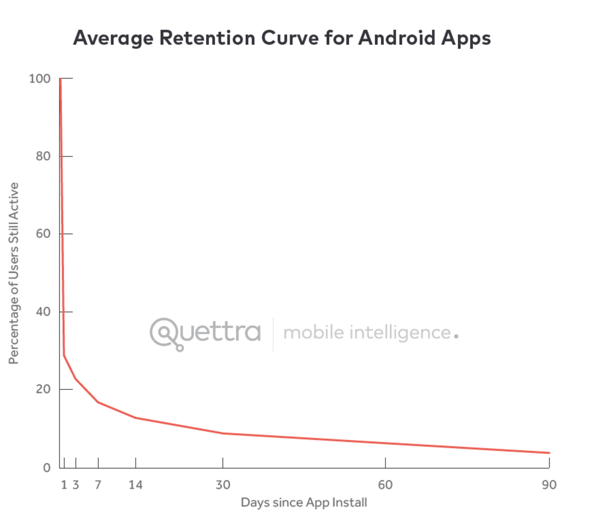 This won't be a surprise to you and it's no longer a surprise to many companies.  They rushed to build an app without really understanding its impact, and now it's time to reassess. Let me give you a few anecdotal examples as well.
A large pharmaceutical company has well over 100 applications across many drug brands.  2017 efforts will re-focus on creating a smaller set of key value-driven mobile apps.  This will improve customer engagement and ROI
A  very well known hospital only has plans for one mobile app they call the flagship app. They don't plan on releasing one app for your in hospital experience, another to look at your medical records, and yet another for pure marketing purposes.  Instead, they are folding all of that into one app to improve the experience for their patients at any time in their lifecycle.
Bottom Line
While mobile is important and you must address it.  Address mobile in the context of the larger customer experience.  Let that be one driver for digital transformation and for investments in both front and back end capabilities.
For additional perspective on the trends we're seeing in enterprise mobile, check out our post on the Perficient Digital blog, How Enterprise Mobile Goes Beyond Customer Experience.