Just discovered here at Perficient Digital: Google mines YouTube descriptions to find prospects for generating featured snippets. What's great about this is that it's one more way that YouTube can help significantly raise your visibility in Google.
Please note: It was previously noted by Jennifer Slegg that Google was pulling some featured snippets from YouTube transcripts, but not their descriptions. What we've seen is coming from their descriptions, and also seems to be a bit more common. Read on for the details on what we found, and my recommendations on what to do to capitalize on this opportunity.
What We Saw
Let's start with an example:


As you can see, the result is from YouTube, so let's take look at the YouTube page:


You can see that the featured snippet text is taken directly from the YouTube description text within the red rectangle (rectangle added by us for clarity). So, let's look at another example:


And, here is the YouTube description for that video: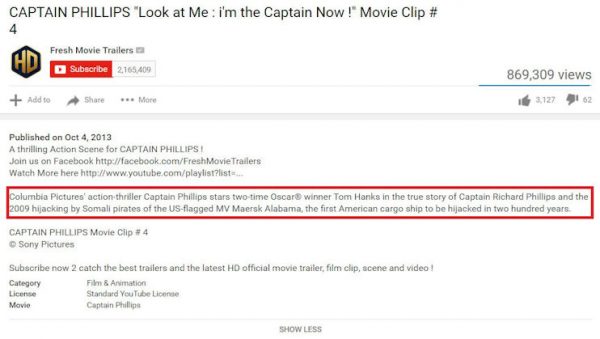 These are two of the examples we've seen, but we're aware of many more.

How Can I Take Advantage of This?
There are already many reasons for establishing a strong presence on YouTube, and this creates one more. First, here are some observations on what appears to be required to get these featured snippets:
The YouTube videos that are getting them also rank in the top 10 in the Google search results. So, you still need to accomplish that to be eligible.
The description you use for the YouTube video should clearly answer the target question, preferably right at the start of the description.
Those appear to be the main requirements to obtain these featured snippets.
[Tweet "Featured Snippets from YouTube in Google Search are one more way your YouTube videos can get you more audience." ]
More broadly, if you're not engaging in publishing YouTube videos, it is something that you should consider for your brand. The opportunities for branding, exposure, and traffic are very significant:
YouTube is a very popular search engine – lots of search queries are done there
Google will show YouTube videos in the top 10 for some of its search results
We now have this new opportunity, to get the featured snippet result
The scope of the video opportunity will only grow as the world increasingly gets more mobile
Have you seen any of these types of featured snippets? Enter any search queries that you're aware of in the comments below.
Further Reading: Featured Snippets: New Insights, New Opportunities