In the world of DevOps, much attention is paid to the continuous availability and innovation of applications. After all, this new philosophy means that customers will always have access to their applications and developers are at the ready and gearing up to solve any issues that may arise.
Nonetheless, there is a darker side to an always connected world, and that's the attention paid when applications do indeed falter. Not only must organizations deal with the blowback from angry customers, but they also must grapple with the potential of lost customers and revenue. Today's customer loyalty has greater value than from years past.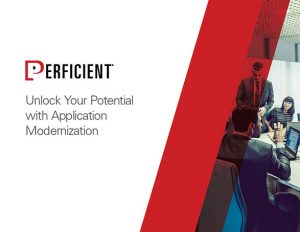 Application modernization is a growing area of focus for enterprises. If you're considering this path to cloud adoption, this guide explores considerations for the best approach – cloud native or legacy migration – and more.
As you awaken from the slumber of the holiday season into the first quarter of 2017, maintaining application uptime should be one of your critical priorities. Obviously, this is easier said than done, but much of your ability to ensure application continuity comes down to Application Performance Management (APM), which is the ability to identify, isolate, and diagnose potential issues.
That's why in addition to our UrbanCode, Softlayer, and Bluemix solutions, we also recommend our customers leverage IBM's APM portfolio, which unifies with existing IBM solutions to offer efficiency, monitoring, and augmented development.
Learn More
Are you looking to get more out of your development needs? Reach out for a discussion at sales@perficient.com, and let's get your technology needs in gear for the year.
Learn more about our IBM practice here.