It was actually during the setup of the show that I noticed and snapped this picture and thought about a few things.  There's a warning on every ladder produced that states the highest step / rung and which side should be used on a folding ladder.  Clearly this guy didn't pay attention to it or disregarded the warning.  Does your CMMS system have safety plans to document heights, confined spaces, electrocution, etc?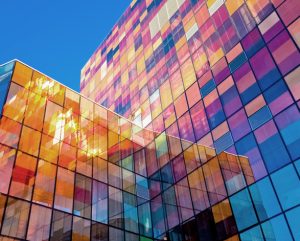 With some guidance, you can craft a data platform that is right for your organization's needs and gets the most return from your data capital.
How about using multiple elevations where placing the ladder?  Granted, not huge, but still, unsure footing can and does cause safety related incidents.  HSE Manager (Health Safety and Environmental) for Maximo provides a solution for centralized reporting and research into incidents, safety and work areas.  Thankfully we didn't observe a safety incident with this work.
Lastly, how about the guy holding the ladder…  Is he actually holding and actively watching for his peer up above, or looking around the EXPO floor?  I'm not sure having his legs crossed is the best positioning for strength, stability or quickness should something happen.  Cameras are everywhere now and can help document findings.  There was a session last week on how drones are being used and the data integrated into your CMMS for inspections etc.
How serious does your team take safety?