Not too long ago, I wrote about a presentation that was delivered by GSK at IBM World of Watson 2016. While the pharmaceutical company's use of Watson exhibits the advancement of artificial intelligence and machine learning, especially when it comes to advertising and marketing, there is another presentation from that event that is incredibly worthy of sharing.
Ginni Rometty, chairman, president, and CEO of IBM, took the stage with Professor Yitzhak Peterburg, chairman of the board of directors of Teva, the world's largest generic medicines producer, to discuss how the pharmaceutical company is leveraging Watson to improve healthcare.
Before I dive into what Teva is currently working on, I want to point out a few statistics about the company that Prof. Peterburg shared, followed by some fascinating industry statistics reported by Ginny Rometty. They truly paint the need and importance of using cutting-edge technology to advance medicine and improve health outcomes.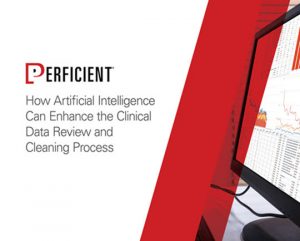 This guide analyzes how artificial intelligence – including machine learning – can be used by pharmaceutical and medical device companies to improve the clinical data review and cleansing process.
Teva:
115 years in business
$20 billion in size
Top-10 pharmaceutical company
200 million people take at least one of the company's drugs
Presence on four continents in over 100 countries
Offers generics and specialty products
1 out 5 prescriptions are for a Teva product
Company offers 60% of the medicines you need
Industry:
Only 5 in 5,000 compounds that enter preclinical testing make it to human testing
It takes an average of 12 years and $1 billion for a drug to reach pharmacy shelves
For every hour that is lost in the regulatory system, it is calculated to cost 260 life-years
During the talk, Prof. Peterburg provided insight into how patients of today seek convenience, affordability, transparency, and personalized treatments, and that it is the technology, such as health apps, biosensors, big data, and artificial intelligence, that will ultimately help us understand patients better. Because of the changing patient landscape and advancements in technology, Teva has already invested heavily into various new technologies, including, of course, Watson.
So, how is Teva using Watson? One example Prof. Peterburg provided was about a current project revolving around asthma. Teva opted to tackle asthma because it continues to be a chronic disease that has a tremendous burden on patients, as well as healthcare institutions. What Teva has done is to create an inhaler that works with Watson and its billions of data points (e.g., other patients, weather, air pollution, allergens), to help predict the likelihood of an attack and to alert patients and caregivers in advance. If Teva's plans pan out, the next generation inhaler could even provide a mechanism to connect a patient directly to a physician through a mobile phone.
Teva is also leveraging Watson for drug repurposing, finding new therapeutic uses for drugs already on the market. Using Watson for drug repurposing can help save a significant amount of money and bring life-saving treatments to people much more quickly.
At the end of the day, for Teva and Prof. Peterburg, it's about being proactive, rather than reactive.
If you are interested in leveraging Watson, fill out the "contact us" form at the bottom of the page to learn about our experience with the platform and to see how we can help.