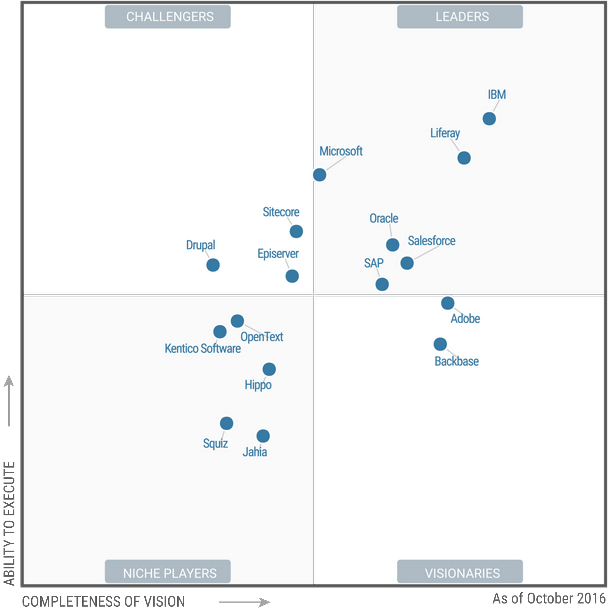 What does your portal strategy look like as you wind down the year and head into 2017? With so many products on the market, it's important that you make the right decision for not only today but for the future as well.
Research firms assess the portals market as one with potential. Though market size dipped slightly in previous years, the increased emphasis and trend of digital transformation places portal technologies back in the limelight, particularly as organizations battle to stay top-of-mind for their customers and retain a share of voice in a very noisy world.
Liferay is one of those firms that's holding steady, named a leader by Gartner for the 7th straight year in Horizontal Portals, platforms that can be leveraged for a wide array of services. With the release of Digital Experience Platform (DXP) this year, Liferay further cements Gartner's reasoning for placement, including:
Development produced entirely in-house and without the need for acquiring technologies from other companies.
A robust developer community that continues to help build and improve upon the open-source platform.
A strong all-around feature set that enables the platform to be used for just about anything.
The benefits of Liferay don't just end there. We've been a certified Liferay partner for over a decade and recently won an award at the annual Liferay Symposium Conference in Chicago for our work with Volkswagen Group of America. If you're interested in seeing how you can benefit from Liferay technologies, send us an email at sales@perficient.com.
Learn more about our Liferay practice here.