Email has been a part of our lives for a long time. Once searching the web and email communication were embraced by the masses, marketers quickly capitalized on this opportunity – a way to establish direct, personal communication with their customers!
Of course things have evolved since the early days – brands have to make sure customers opt-in to avoid getting black-listed. And as consumers, we can never escape email with the ability to check our inboxes via mobile phones.
In the latest #AdobeChat, the conversation focused on consumer email habits and how brands can further evolve their email marketing. Some common themes emerged, including knowing your audience and using data to personalize messages/provide relevant info at the right time.
Here are the key takeaways from the discussion – all good things to remember for those of us who have done email marketing for a while.
Some claim that email is dead or dying. Thoughts from the group?
The majority agreed that email is still very much alive: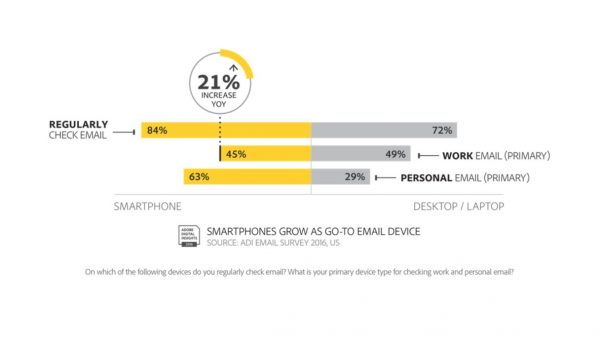 However, at a time when consumers are flooded with messages on a daily basis, it needs to evolve. According to @Livefyre, it needs a new approach – highly personalized, mobile optimized, and contextually relevant. (I couldn't agree more!)
A study by Adobe Insights revealed that 50% of consumers prefer to be contacted by brands via email compared to other channels. What's behind this?
Regarded by consumers as permission-based marketing
Email gives consumers choice and control – "less disruption and potential for personalized email" (@kenburbary)
What are three keys to email marketing success?
The majority of the answers revolved around these main points:
Know your audience – why do they want to hear from you?
Use data to provide relevant & timely offers
Mobile-friendly design is a must
Consider drip campaigns and link tracking for follow up (@danieldidthat)
According to Adobe Insights, respondents found less than 1/4 of email offers interesting enough to open. So, what are brands doing wrong?
Ignoring context
Using weak/non-compelling subject lines
Lack of personalization to appeal to customer/prospect
Contacting subscribers too often with offers that are too similar
What companies are doing email marketing well? How are they getting it right?
Examples mentioned included JetBlue, LinkedIn, Apple, Domotalk because of perceived value, clean design, and frequency ratio (not too much)
Quartz and Target for their email personalization
What does the future of email marketing look like?
Personalization and improved understanding of the audience
A8: The future of email is more personalized and dynamic. IoT will have huge impact on how we consume and market via email. #AdobeChat

— Giselle Abramovich (@GAbramovich) October 5, 2016
A8) On the creative side – see more kinetic email w/ frequent use of icons, emojis, animated GIFs and interactive design elements #AdobeChat

— PRFT DigEx (@PRFTDigEx) October 5, 2016
Integration of cross-channel messaging
A8) Major email clients to integrate cross-channel messaging while collecting subscriber data to narrow preferences #AdobeChat #BigData https://t.co/EVCX5i8Igk

— PRFT DigEx (@PRFTDigEx) October 5, 2016

Check out the weekly #AdobeChat every Wednesday at (4 p.m. ET/ 1 p.m. PT). This week's edition is all about User-Generated Content – should be interesting!
Join us next week as we talk "User-Generated Content" in #AdobeChat. pic.twitter.com/K3uayd7vRs

— Marketing Cloud (@AdobeMktgCloud) October 5, 2016