Important note: This is Part 2 in a series. Please check out Part 1 on Taxonomy if you have not already.
Having goals is critical to any project and an absolute requirement for the digital space. Now marketers can measure everything without guessing, estimating, or sampling. With powerful tools like the Sitecore CXP, you can measure user behavior across multiple channels and multiple business systems down to a one-to-one level. The video below will help you through this crawl phase of setting up goals and engagement value in Sitecore CXP.
With this power of one-to-one data comes the great responsibility of making sure your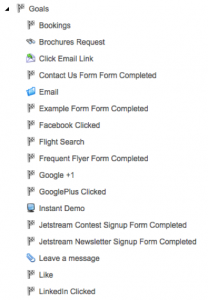 goals that drive this data match your business objectives. As a best practice when setting up goals I must emphasize, please do not boil the ocean; start with a small sample of 20-30. These should be on key decision pages, landing pages and so on.
With goals, marketers (without the day-to-day interaction of IT), can start to track activity and watch user flow (or with a little help, defined actions) from a high level down to a single customer. This, however, may provide bad feedback to your business if one or more of those activities far outweigh the importance of another? This is where Engagement Value comes in.
Engagement Value allows the business to define importance of goals on a sliding scale, and with that you can track user activity while taking business value into account. Better yet, with Sitecore 8.x you can track and report on goals and value at both high level and at a per customer level, and then use that powerful information to personalize content on goals met, engagement score value, or any combination of both. You can even assign some of the Taxonomy you have created to drill deeper into reporting, or further refine the personalization for select content.
Part 2: Learn in this video how to create goals, and start to define engagement value.
Thanks for watching and check back when I will build from here in my next episode: Campaigns.
Please reach out with any thoughts or questions and follow me on twitter: @Sitecordial