Oracle provides multiple ways of reporting from Oracle Cloud (Fusion) Apps.  Oracle HCM Cloud, CX Cloud, SCM Cloud and Cloud ERP all have Oracle Transactional Business Intelligence (OTBI) built into the application.  In addition, Oracle Business Intelligence Cloud Service (BICS) can also access Oracle Cloud application data and load it into the BICS Database via Data Sync.  While OTBI is real-time, access via BICS must be done through a trickle feed in which Data Sync can update the BICS Database as often as every minute.  Although OTBI provides real time access to data, it is limited in what it can do.  It is for Oracle Cloud Apps only; there are no other third party data sources that can be added to it.  It performs online BI queries against the Cloud Application database directly.  There is no data warehouse with advanced metrics and it lacks historical data which limits the type of analytics that can be done.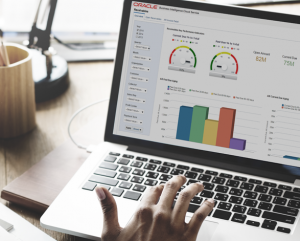 Explore key considerations, integrating the cloud with legacy applications and challenges of current cloud implementations.
BICS meanwhile is a full featured Business Analytics tool that is source agnostic. BICS features not just Dashboarding and Reports that OTBI offers but also BI Mobile and Data Visualization capabilities with the ability to do advanced analytics.  The included Cloud Database allows you to use Data Sync 2.2 to load data from multiple data sources including:
Oracle Cloud Apps
Salesforce.com
Oracle, IBM DB2, Teradata, MS SQL Server, and MySQL Databases
Flat files (Excel, csv, etc.)
Big Data technologies such as Greenplum, Hive, and Impala
Amazon Redshift
IBM Informix
MongoDB
PostgreSQL
Sybase
This ability to  combine data from multiple sources allows BICS to be used as an Enterprise Analytics platform while OTBI is simply a transactional reporting platform for operational reporting.  The trickle feed capabilities of Data Sync allows BICS to provide near real-time reporting on all of your data.  In addition, Perficient's pre-built analytics solutions provides metrics, reports and dashboards out of the box, accelerating your Enterprise Business Intelligence projects.  In future posts, I will provide further details and examples of how Oracle Cloud App and BICS integration works in Data Sync.
Learn More
If you'd like to continue the conversation and learn more about BICS capabilities, stop by Perficient booth #1715 at Oracle OpenWorld Sept. 18-22 in San Francisco.