First day of Symposium, good to see everyone last night. Picked up the jacket and bag of goodies.  Seminars and training is happening today. Powershell, Helix, xDB oh my.  Had Starbucks this morning with my daughter she was excited as she got to meet Chris Castle.


Went to the art and warehouse district to see the works of James Flynn. A must for all techies like us.  Very scientific artwork.


Of course had to stop at cafe du monde


On the way to see Joan of Arc


Tonight is the welcome event.  Thanks for coming by the booth.  If you have not already drop by and find out more about Ignition. Look for someone wearing this shirt like I am.


By the way, the jazz band playing all week is the house band for the best blues joint in town.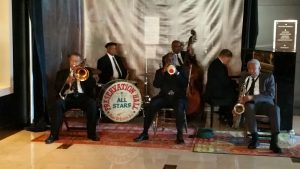 Back at the hotel, you may have noticed something cool on your door. Congrats Nishtech on the release of the Sitecore Accelerator Framework for Insite Commerce.
More to come tomorrow. I will start a new article.