CHALLENGES MAKING MASSIVE AMOUNTS OF DATA MEANINGFUL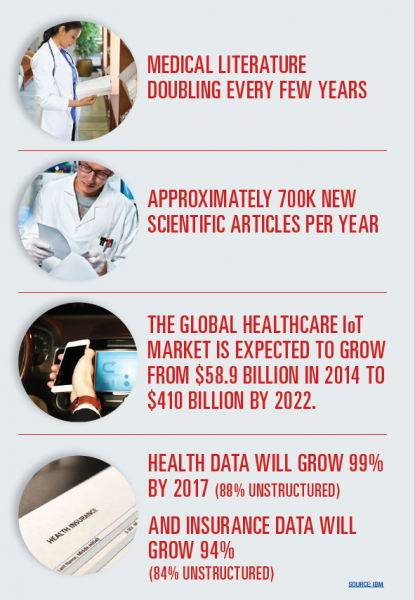 Healthcare data requires high security – but that can also lead to difficulty in sharing information when needed. Interoperability of healthcare data requires a modernized infrastructure to enhance communication and access. With restrictive formats like EDI and HL7, along with the unstructured data generated by wearables and devices, providers and health plans have to find faster, easier ways to exchange this data in order to provide better care.
Healthcare organizations need to transform this large volume of data into actionable insights that improve the quality of care and reduce overall costs.
APIs INCREASE INTEROPERABILITY 
APIs can clearly define transmission and security rules for data exchange between systems within a healthcare provider or plan and between organizations. With integrated services, APIs can speed the delivery of interoperable services while increasing the security of patient data. APIs can support Fast Healthcare Interoperability Resources (FHIR), the latest proposed interoperability standard developed by HL7 for data formats used in clinical systems. With FHIR's modern web services approach, interest and adoption in the healthcare IT community is growing. Organizations must be ready to create systems that can handle this new data exchange technology and those that will proceed it.
It is critical for organizations involved in M&A activity to keep consumer experience a priority. Leveraging shared data and services will be a key to delivering a cutting-edge digital experience for their existing and newly attained consumers. Data integration from all sources and systems is an enormous undertaking, but one that will be the cornerstone of success.
Information deluge is just one of the healthcare challenges alleviated by API management outlined in our guide, Digitally Transforming Healthcare with APIs. Download the guide for the other ways APIs are changing healthcare and get real-world success stories from industry leaders.