In the European Union, the use of E2B(R3), along with IDMP, is in legislation, so not complying by the deadline could have legal repercussions. Non-compliance with the FDA and MHLW's requirements could also bring unwanted scrutiny. More importantly, if an organization does not comply by the deadlines, they will not be able to send ICSRs automatically to regulatory agencies. Nonetheless, if an organization's safety and pharmacovigilance system does not have the ability to submit data in the new E2B(R3) format, they can still transmit the information via web-based solutions, such as EMA's WebTrader.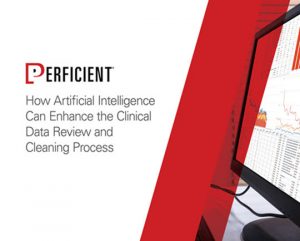 This guide analyzes how artificial intelligence – including machine learning – can be used by pharmaceutical and medical device companies to improve the clinical data review and cleansing process.
Navigating regulatory guidelines and requirements is a challenge that all life sciences organizations must confront in order to protect the safety of patients, as well as to shield themselves from the dire consequences that can be imposed by global regulatory bodies.
As a company that has assisted hundreds of organizations with their clinical and safety system implementations and integrations, Perficient is in a unique position to help biopharmaceutical, medical device, and contract research organizations assess their situation and provide trustworthy recommendations they can depend on. While the commercially off-the-shelf adverse event reporting system we specialize in is Oracle Argus Safety, our team has the industry experience that organizations can turn to for all of their technology needs.
To learn about E2B(R3), the impact it is likely to have on drug safety business processes, and some ideas for how to move forward, fill out the form below or click here.