We are excited to announce that we have joined as a member of the Amazon Web Services (AWS) Partner Network (APN). The service is trusted by thousands of businesses in 190 countries around the world and has been recognized as a leading solution by cloud infrastructure industry analysts. Products in the AWS suite support areas such as:
Application Hosting
Backup and Storage
Enterprise IT
Content Delivery
Databases
Websites
AWS provides a suite of secure and flexible services that help modern organizations innovate across content delivery, backup and storage, enterprise IT, web development, and application hosting. Furthermore, these services are provided at a low cost, allowing for easier scalability and competition within the marketplace.
"We are excited to welcome Amazon Web Services into the Perficient family", said Vishal Rajpal, general manager of Perficient's cloud and DevOps
practice. "Our expertise in the cloud space, coupled with Amazon Web Services' award-winning will provide our customers with technologies they need to remain relevant and competitive in the marketplace."
Learn the six most common pitfalls when upgrading your contact center, and how Amazon Connect can help you avoid them.
Our relationship with AWS begins at a time when cloud innovation and adoption are accelerating. In recent months, cloud trends have emerged in the area of chatbots, the Internet of Things (IoT), DevOps, and blockchain technology while enterprise cloud adoption remains one of the top 10 decision imperatives in 2016, according to research firm IDC.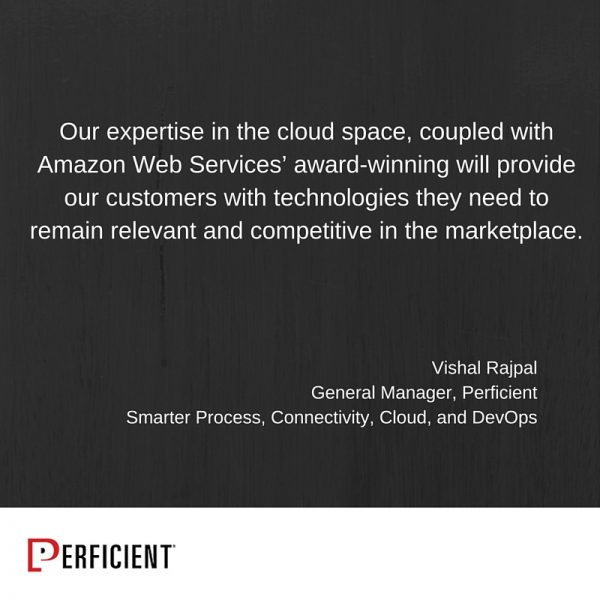 Perficient also plans to provide additional services to complement Amazon's offerings, including our Collaboration Approach containing the Measure, Diagnose and Improve (MDI) framework. We understand that cloud adoption is a difficult journey for all organizations and provide strategic guidance that includes creating productive closed-loop feedback, product testing, and organizational training. This ensures that organizations are ready for the transformational benefits promised by the cloud to remain competitive in a global market.
"Our MDI framework complements our cloud practice and accelerates digital transformation for our customers", Rajpal continues. "Our guidance as a value-add ensures their migration and transition into the cloud is a smooth experience for everyone within their organization."
Learn more about our AWS practice here.