Currently, two of the FDA branches have released guidance documents and have implemented a form of E2B(R3). Center for Biologics Evaluation and Research (CBER) has released "Providing Submissions in Electronic Format — Postmarketing Safety Reports for Vaccines" and the Center for Devices and Radiological Health (CDRH) has released "Technical Information on eMDR." While both of these branches have required E2B submissions since 2015, no new guidance has been published by Center for Drug Evaluation and Research (CDER), although the group is very likely to issue guidance sometime in 2016. Pending new guidance, if an organization manufactures vaccines or devices, it will likely be required to submit its safety data to regulatory authorities in the new E2B(R3) format.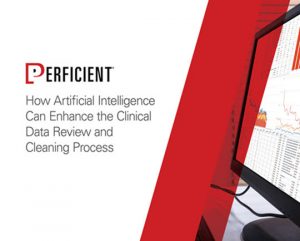 This guide analyzes how artificial intelligence – including machine learning – can be used by pharmaceutical and medical device companies to improve the clinical data review and cleansing process.
Exactly when the European Medicines Agency (EMA) will require submissions to be in E2B(R3) format depends on the completion of a successful independent audit of the new EudraVigilance system, in addition to the implementation of the Identification of Medicinal Products (IDMP) guidelines. The audit will check that the required functionalities, agreed to by the Pharmacovigilance Risk Assessment Committee (PRAC) and the EMA Management Board in December 2013, have been implemented. The audit report, along with a PRAC recommendation, will be presented to the EMA Management Board, who will then announce whether the EudraVigilance system has sufficiently implemented the functionalities. This falls in accordance with EudraVigilance stakeholder change management plan. At the EMA stakeholder's day in December of 2015, the EMA stated that they hoped the requirements for mandatory submissions using E2B(R3) would be in place by in mid-2019.
Japan's Pharmaceuticals and Medical Devices Agency (PMDA) has stated the interim period for submitting data in both E2B(R2) and E2B(R3) formats is between April 1, 2016 and March 31, 2019. Essentially, this suggests mandatary submission using E2B(R3) would begin April 1, 2019.
To learn about E2B(R3), the impact it is likely to have on drug safety business processes, and some ideas for how to move forward, fill out the form below or click here.